The shower pan is an essential part of your shower. Also called the shower base or shower tray, it is the bottom of the shower. It shields the floor from moisture. There are different kinds of materials used for making shower pans. Each has its pros and cons.
Some DIYers prefer actually making their own bases, but for it's convenient to purchase pre-molded shower pans, which are available in various sizes and shapes. Let's take a look at your choices.
Different Types of Shower Pans
Acrylic Shower Pans
These pans are basically plastic molded into a certain shape. You can find these in different sizes and shapes. They are very lightweight despite being durable. Compared to other types of shower pans, these offer a whole myriad of colors for you to choose from – a dream come true for interior designers. Don't worry, it's not just a coating of color – it does go all the way through. Hence, it cannot be buffed out through regular use.
A disadvantage of these pans, though, is their low cost. Although affordable, they can also feel cheap and flimsy sometimes. This said, they are also the easiest to install.
Fiberglass Shower Pans
Fiberglass is also lightweight and durable. Like acrylic shower pans, these are pre-molded to a certain shape. You can find different sizes and shapes to suit your needs. The pan is coated with an exterior gel coating, applied through spraying.
You won't get as many color choices, and the spray-on coating can get scratched and buffed off over time – something that's also quite hard to repair. Discoloration is another downside of this type, which tends to happen eventually. But it's also inexpensive, so it might be a temporary choice if you're in a tight budget. Compared to acrylic, this one feels more heavy-duty and less flimsy.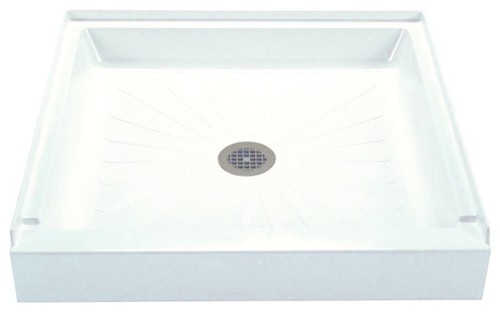 Cultured Stone Shower Pans
Cultured stone shower pans are made using a blend of resin and real ground stone. It's often marble, granite, or limestone. Similar to fiberglass, the exterior is sprayed with a gel coating. If you are looking for an attractive choice that will suit both classic and modern decor, this will do a good job. The sophisticated look is one of the biggest advantages of choosing cultured stone.
It will be prone to chips and cracks. However, it is chemical-resistant, keeping it safe from regular exposure to hair and body products. Because of the upscale feel, this is one of the more expensive types you can get.
Tile Shower Pans
Finally, we have tile shower pans. These are quite difficult and time-consuming to install, so it's convenient to hire pros to do the job for you. You'll have a blast choosing from an endless array of colors, styles, and materials.
A common problem with tile pans is the ability of water to seep through the grout, so it's imperative to put just one layer of tile. You should put down the pan and place tile over it, or use a shower pan liner (a waterproof, flexible material that keeps water from seeping down to the subfloor). Adding concrete to make a slope in the floor, directing water to the drain, is another option. Or, if you have the budget for it, go for a vitreous china pan, an expensive but very durable way to go.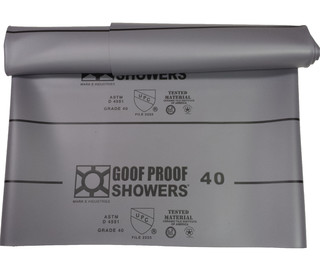 Determining Drain Locations
If you choose to install the shower pan on your own, it's essential for you to understand the basic layout of the drainage and plumbing system in your home. It can be a hassle when installing new showers and accessories, especially if it's a retrofit. In these cases, we recommend getting expert help to prevent any further damage to your property, and to enjoy your purchase the way it is meant to work. These experts can also ensure that you meet water-efficiency, local code, and safety standards.
Factors to Consider When Choosing a Shower Pan
Undoubtedly, you'll want to do ample research and think a lot before choosing a shower pan. The obvious ones include your budget, the kind of material and its durability, and your design or color preference. Besides these, you'll also want to ponder on the following:
Size
An important factor that you need to think about is the shower pan's size. It should correspond to your bathroom space, not occupy too much space that it hinders with other bathroom fixtures and furniture. Miscalculating this might make it difficult to perform chores in the room, or even bring about unnecessary damage.
Maintenance
You want a shower pan that won't take up too much time and energy to clean and maintain. Check for stain-resistant materials. In this case, you'll need to set your priorities straight; for instance – fancy pans will look great, but often require more intensive maintenance, while more plain-looking ones are easier to clean.
Waterproof Base
This one's a given, but it's worth reminding – always go for pans that are waterproof. This is important since a pan that lets water accumulate on its surface can lead to bigger problems. Standing water in the bath is not just messy, but also unhygienic, and can let the water leak through the floor and damage a significant area of your bathroom. Plus: watermarks!
Safety Standard Certification
Finally, check for certifications from corresponding safety standards and authorities. It's also noteworthy to check your state's local quality standards. This not only keeps you and your home safer, it also indicates a higher level of quality in terms of manufacturing and materials used.