If you're remodeling your bathroom, it might be time to upgrade your showerhead, too! If you're looking to find a new showerhead, it can get confusing with so many options. Let's first take a look at the different types available.
Different Types of Showerheads
Rain Showerheads
These showerheads are becoming more and more famous today, mainly because of the luxury that they bring. The name says it all: you're literally going to feel like you are bathing under rainfall. This is made possible by a wider diameter, whether in a square, rectangle, or round-shaped showerhead. The number of shower nozzles makes the difference, too. These often come with several spray settings to choose from, so you can customize the shower experience as you wish.
These are great for modern bathrooms but are versatile enough to fit into any type of bathroom decor. Expect these to be much larger than other types of showerheads.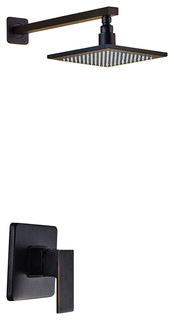 Handheld Showerheads
Sometimes, you just need to be able to control exactly where the spray goes. Handheld showers are perfect for giving you the flexibility to reach different areas. Fixed wall-mount showers won't let you enjoy this advantage. Luckily, a lot, if not all, of wall-mounted showerheads offer the choice to hang the showerhead on the wall or pick it up and use it as a handheld device. Dual showers (more on this below) also feature handheld options.
This is ideal for homes with kids and pets, allowing you to shower them more efficiently and easily. These showerheads come with various settings, too, so if customization is important to you, be sure to check the features available. They also come in all sorts of designs and colors (finishes) to fit your current bathroom theme.
Dual Showerheads
What if you can't decide between getting a fixed rain showerhead and a handheld one? Luckily, many manufacturers have already taken note of this dilemma and have come up with the solution: dual showers. As the name suggests, you get both types of showerheads in one fixture. This allows you to enjoy the features of both types without making separate purchases.
These modern showerheads are sleek and often feature advanced technology. You'll often see these in fancy hotels and high-end homes, and it's no secret that they provide a high sense of luxury with every shower. This type of showerhead allows parents of kids or pets to be able to indulge themselves in a full rain shower, and also efficiently bathe their kids or pets using the handheld showerhead.
Make sure to pick one with good water flow, a key factor in the amount of pressure and cleansing that you get. This is measured by GPM, and is often indicated in the product details. Getting a WaterSense certified showerhead is also important because it certifies that the product has passed industry standards in terms of good water performance and water efficiency at the same time.
Shower Panels
Shower panels are another luxurious option for homeowners. They are pretty common in hotels and resorts, too. These can work similarly as handheld showerheads. Shower panels afford a satisfying massage shower experience, perfect for relaxing and rejuvenating you when you need it. Plus, there's no denying how much better your bathroom will look and feel with a shower panel. Just by looking at one, you can feel luxurious already.
Shower panels are efficient in rinsing you thoroughly and providing a comprehensive cleanse. Plus, these aren't prone to clogs.
RV Showerheads
Of course, there's one for campers, too. RVs deserve the best, and this dedicated type of showerhead is right up the travelers' alley. The main function of the RV showerhead is to save water and minimize waste by using high pressure. You don't need to worry about clogs with this showerhead type, either.
Often, RVs come with pre-installed showerheads, but these are prone to clogs and other problems. Changing the showerhead to this specialized type can save you tons of water (and money) down the road. It uses lower GPM, giving you a more water-efficient ride and shower.
High-Pressure Showerheads
Many people need to shower in the morning to get ready for the day, and again in the evening just before they hit the sheets. High-pressure showerheads are perfect for both reasons. Get energized and fully awake with a rejuvenating shower in the morning, and soothed and massaged after a tiring day at work.
You can adjust the settings to modify the level of pressure that you want. Not all showerheads come equipped to handle high water pressure, hence the need for this specialized type. When choosing a showerhead, make sure you don't just look at the finish and design, but also the durability, settings available, and maximum pressure.

Low-Pressure Showerheads
If we have high-pressure showerheads, we have low-pressure ones too. These are ideal for areas where there is consistently low water pressure. These are designed to provide efficient performance despite the low pressure available. They maximize the water's weight, resulting in a satisfying, spa-like shower.
These also come with many settings, so you can personalize the shower. Because of the advanced technologies that come with these showerheads, expect them to be on the higher end of the price scale. But if you live in a place where there is often a water shortage, this will be a good investment for you. It also helps the environment by not wasting more water than you should, and instead incorporating shower technology to supplement the water supply and still create a good level of pressure.