There's more to choosing a shower faucet than meets the eye. Before ordering one, it's good to know what types are available to you. Getting the right shower faucet isn't just convenient, it can also ensure that you maximize your shower's performance.
There are different ways of classifying shower faucets. We'll talk about these categories below. We hope that this guide can make you a bit more knowledgeable about shower faucets before you go shopping.
Types of Shower Faucets
These are the basic types of shower faucets available in the market today, based on their function and form:
Shower only faucet

Handheld shower

Tub Filler

Shower faucet and tub combo

Shower system

Body sprayer
Based on Valves
Now, let's categorize shower faucets based on their valves. The valve is the part of the shower faucet that goes into the wall. Different types of valves provide different levels of performance and lifespans. Valves also determine the function of the shower faucet, which directly affects how you enjoy your shower experience.
Knowing the exact kind of valve that you have will make future repairs and replacements easier for you.
Let's first classify shower faucet valves according to the number of controls.
Single Temperature and Flow Control Valve
This valve contains one outlet and one temperature control. This means that you can adjust the flow rate AND water temperature using one control panel or knob.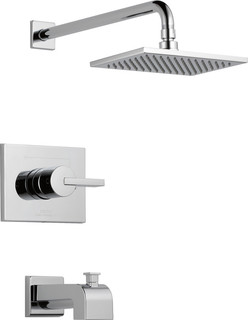 Separate Temperature and Flow Control Valve
This is common in single overhead showers. The flow rate and temperature controls are separate. Because of this setup, you can use it to supplement showers with detachable handheld showerheads.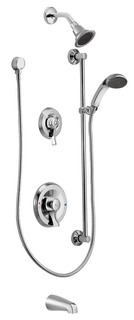 Double Outlet Single Temperature and Diverter Control Valve
The valve here has two controls, two outlets, temperature control, and a diverter. The diverter works at 3 positions. The diverter doesn't operate flow control, but functions as a switch.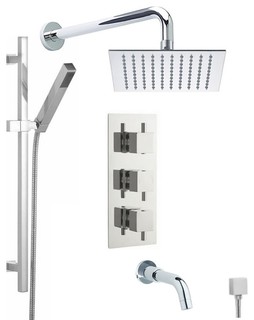 Double Outlet and Four Flow Control Valve
This valve has 2 outlets and 4 controls. You get a dual flow rate control. It also comes with a single temperature control. The valve lets you adjust the flow rate for each of the outlets. This is commonly used in overhead showerheads that have several jets.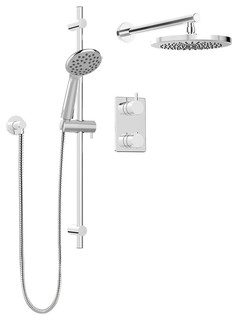 Multi-Functional Control Valve
Finally, the multi-functional valve: as the name implies, it performs many functions. It comes with 3 controls and outlets. Every control serves as a diverter, flow control, and temperature control. This is commonly found in overhead showers with different body jets.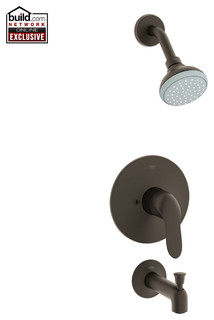 Based on Faucet Configuration
Tub/Shower Combo Faucets
This type of shower faucet is commonly seen in homes and apartments all over the world. The faucet has a wall-mounted tub spout. The showerhead is also on the bathtub (see photo). The faucet and showerhead share the same diverter and handle. The diverter comes in the form of a button or a lever, which lets you adjust the water flow to and from the tub and shower, and vice versa.
Shower-Only Trim Kits
This type usually features various valves that control the showerhead. These are often geared with a thermostatic valve that controls temperature flow as well. For more information about thermostatic valves and the other types of shower valves, click here.
Based on Showerheads
Fixed Showerheads
Fixed showerheads are mounted on the wall or on ceilings. They can pivot about 180 degrees so that you can customize the direction and height of water as you shower. Some showerheads will have multiple functions, but most come as single-function fixtures.
Handheld Showerheads
As the name suggests, handheld showerheads can be detached from the wall and held by hand. These are the most popular and common type, and have been in use since the early 20th century. This is because of the advantage that they can afford, letting you enjoy flexibility in reaching different areas of the body as you need.
Based on the Number of Handles
We can also classify shower faucets based on how many handles they have. You can choose from:
Single-Handle Shower Faucets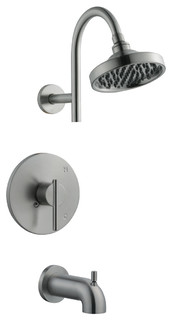 Double-Handle Shower Faucets