Any bathroom that has a shower stall or tub needs a good shower curtain. But if you think that all shower curtains are created equally, think again. Shower curtains are more than just functional accessories, they're also very aesthetic. If you want to update your bathroom decor while repelling moisture and keeping your floor dry and clean, investing in a high-quality shower curtain will require some thought.
Take a look at the different types of shower curtains available today.
Different Shower Curtain Materials
Cotton Shower Curtains
Cotton curtains are a common choice for homeowners because the fabric is easy to clean and maintain. It also creates a "softer" accent that complements sharp edges of most modern bathrooms. It gives a warm and inviting look. You can get cotton shower curtains in different colors and designs. Choose from floral patterns, solid colors, dots and stripes, and many more. You won't have a hard time finding one that matches your bathroom decor for sure.
The downside to this is the material's high absorbency, making it prone to getting soaked with water and moisture. What many users do to fix this problem is to use it together with a vinyl or polyester lining to give it a degree of protection from splashes. Washing it often can also prevent mold and mildew from growing.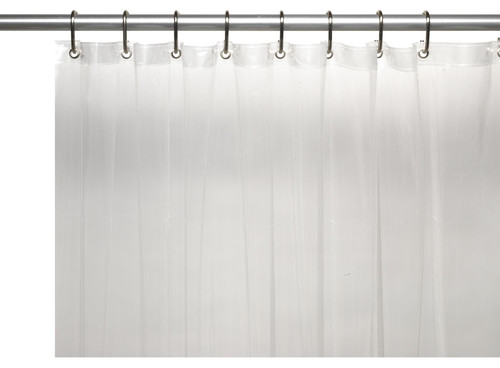 Vinyl Shower Curtains
Unfortunately, not all of us have a lot of time to always wash and change shower curtains. For such busy lifestyles, cotton might not be a good option. Instead, go for a more low-maintenance choice such as vinyl shower curtains. The synthetic nature of vinyl makes it inherently repellent against moisture.
You can find different colors, designs, and patterns to match with your bathroom design. Unlike cotton curtains, these don't necessarily need to go with additional liners. However, some still use these to add an extra layer of privacy and to further keep the water inside the shower area.
Microfiber Shower Curtains
Microfiber is a beloved fabric used in different applications. As shower curtains, they give a softer-than-usual option in the bathroom. They are also effective in keeping moisture inside the shower area. If ever they get residual wetness, it will quickly evaporate, keeping mold and mildew at bay – especially if these are hung in a bathroom that's well ventilated.
Use them with magnetic weights to get heavier consistency. You'll get a significant level of stability even with high water pressure, or even when the bathroom fan or heat vent is blowing out air. Plus, these are machine-wash safe, giving you less stress in terms of cleanup.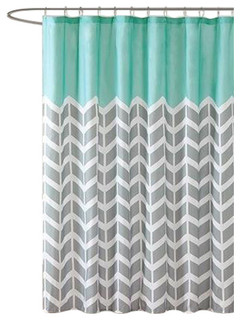 Types of Shower Curtains Based on Design
Decorative Shower Curtains
If you use the bathtub more than you use your shower, decorative shower curtains might be a good fit. These will do great if you're just looking for a cost-effective way to breathe new life into your bathroom. These are made with high-quality materials such as rayon or faux silk. Premium ones can also come with hand-stitched patterns, laces, and other embellishments.
But these aren't just a pretty face, they're also practical. As long as you pair them with nylon or polyester liners, they will prove their worth even in high-traffic bathrooms. And all while adding beauty to the room.
Hookless Shower Curtains
Hookless shower curtains are often found in contemporary bathrooms that use ceiling-track curtain rods. These come equipped with built-in grommets that allow them to slip easily over shower rods, creating a smooth, seamless look. Say goodbye to pesky curtain rings for good.
You can find different colors, patterns, and materials to suit your preferences. If you want extra moisture protection, you'll be glad to know that there are many hookless shower curtains with built-in liners!
Extra-Wide Shower Curtains
Finally, you can try extra-wide shower curtains if you need additional privacy and coverage around your tub. This is true if you've got a rectangular rod that hangs over the bathtub from your ceiling, or if your curtain rod is L-shaped. These curtains make sure you never have to stress over squishy bath mats and wet floors again.
You can also pair any non-synthetic shower curtains (linen or cotton) with these extra-wide shower curtain liners to prevent excess moisture and keep the shower curtain in top shape for longer.
A Few Pointers on Choosing a Shower Curtain
Here are some extra tips to keep in mind when choosing a shower curtain for your bathroom:
If you have a minimalistic bathroom decor going on, you'll do well with solid colors instead of prints and patterns. These will avoid overdecorating and compromising the entire look of the room. Go for colors that already fall in line with your current bathroom theme. If your paint and tiles are neutral colors, for example, you can take advantage of earth-toned shower curtains.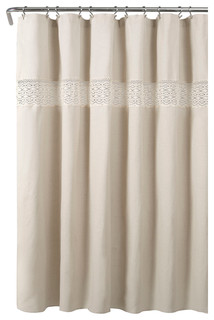 Consistency of colors is key. You want to ensure that you don't a color scheme that is too "clashing". It not only hinders the continuity of the design, it also reduces the overall aesthetic of your bathroom. If you have neutral colors and whites in the room, you can use added color using bright and bold curtains. However, if your existing decor has a distinct color scheme, be sure to find a shower curtain to match it.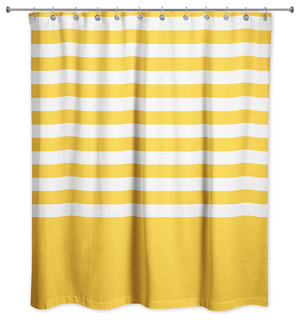 Consider using magnets and weights. When water pressure is heavy, the shower curtains can fly away from the bathroom, especially during a shower. To counter this, check out weights that are designed to hold shower curtains down. There are many options to choose from, from colors to designs.