We use our showers daily and enjoy it. However, we often overlook their parts until there is a reason to take a closer look – when they get broken, for instance. One of the most important parts of the shower is the shower arm, especially if you're keen on having full control and flexibility when bathing yourself. Fixed showers and rainfall units are great for drenching and relaxing under a full spray, but every now and then we all just need to have a handheld fixture to cleanse our body the way we want to.
In this article, we're going to take a deeper look into the shower arm, an essential but often neglected fixture in the bathroom. Did you know there is more than one type of shower arm available? Keep reading to find out more about these, and to figure out which one's the right one for you.
Advantages of Shower Arms
First, let's define what a shower arm is. Also called a shower extension, a shower arm is basically a pipe fitting that's attached to your showerhead and to the water supply. It can extend out of the wall, used handheld, and give you far more flexibility and control compared to mounted showerheads.
Using the shower arm lets you adjust the angle and height of the showerhead, which can be a big selling point for taller users. Adjusting this gives you just the right coverage that you need. If using the massage function of the shower, this lets you hit the right pressure points of the body that you need relaxed and soothed.
In some cases where you buy a home with pre-installed showers, it is possible to have showerheads that are too high or too low. Using shower arms allows you the benefit of working around this disparity and get the height just right. Another benefit of shower arms is being able to use a shower without having to reinstall plumbing if the outlets are too high or too low. By extending the showerhead, you can get it right where it needs to be without much hassle.
Types of Shower Arms
While there are many different designs, colors, finishes, and materials to choose from when shopping for shower arms, there are also different forms to choose from.
Standard Shower Arms
These are the most common and basic type. They are really simple, and probably what comes to mind when you think of shower arms. They come with a small extension at an angle.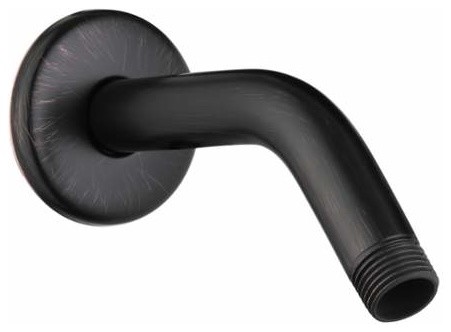 Straight Shower Arms
The straight shower arm gives a more contemporary look and feel. Similar in principle to the standard shower arm except in form, these are fully straight. The showerhead is attached at the end of the arm at a 90 degree angle. These are perfect if you are using rainfall showerheads.

Gooseneck / S-Shaped Shower Arms
The Gooseneck shower arm is gaining more popularity in recent years. As the name suggests, it has a gooseneck shape. This type is particularly beneficial if you want to raise the height of the showerhead to your preference. These go well in both classic and modern bathrooms.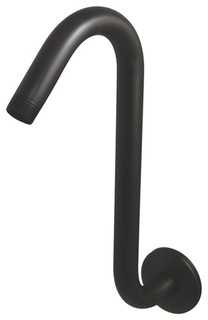 Choosing the Right Type of Shower Arm
Here are some factors you need to think of before choosing a shower arm.
Style & Design
Look beyond the outer appearance for this one. Ask yourself if you need an S-configuration showerhead, or possibly a multi-arm, especially if you plan on raising the showerhead's height. Perhaps you prefer a shower arm that's mounted on the wall or ceiling while still being able to adjust the height of the showerhead. These are some of the features available in modern designs. Take time browsing different shower arms to get exactly what you need.
Tip: Gooseneck shower arms are your best for raising the height of your showerhead, especially if you're looking for easy, DIY installation. Often, they come in just one single piece.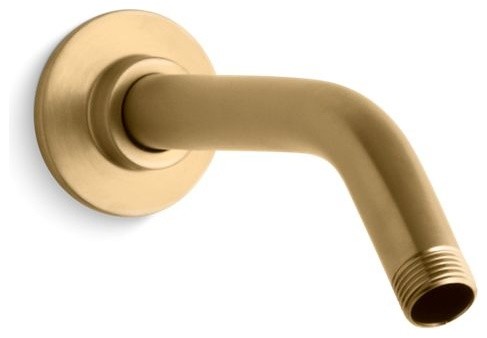 Existing Showerhead Type
If you're buying a shower arm, obviously you already have a showerhead that's going to go with it. It goes without saying that you'll need to make sure your showerhead is compatible with the arm you're going to buy. For instance, it won't make sense to have a 12-inch showerhead and then purchase a small Gooseneck shower arm. The bends will bump with each other and you'll have issues with the screws.
Measurements are the most technical part of this shopping process, so be sure to check them twice before making a purchase.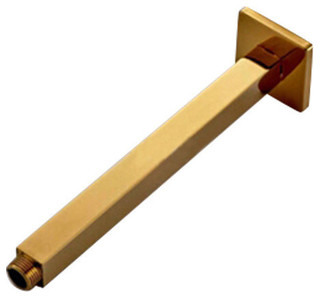 Finish & Color
Finally, it is logical to get a shower arm that already matches the current color of your showerhead, and your overall bathroom decor in general. If you have chrome showers, go with chrome arms. Match brass with brass. This is the one exception when it comes to "mix and match". You'll want to keep them in a continuous theme to keep a luxurious and beautiful aesthetic.
With that in mind, you also should not get retro vintage shower arms for a showerhead that's fully, ultra-modern with LED lights and panels.

Quality & Craftsmanship
Last, but not least in any way, go for brands that are reputable. This is a good pointer to take especially if you hate reading endless pages of reviews, making online comparisons between models, and digging in too deep with the specs.
By trusting a globally renowned brand, you eliminate the guesswork and ensure the quality of the materials and craftsmanship that you'll be receiving. You'll also get a guarantee that they're using the most advanced technology and crafting techniques. For sure, you'll get a good warranty deal and customer service along with it, too. This is good if you want to invest in a fixture that'll last you more than a few years.