Bathroom sinks are an essential component, along with the vanity it's often the focal point of the bathroom. While there is a wide variety of sinks available for both kitchen and bath in this article we'll focus on the specific types of bathroom sinks to consider whether you're remodeling your bathroom or designing from scratch. The shape, size, and mounting style are all key features to consider when selecting a sink. The sink you install will also depend on how much space you have as well as the width and shape of your bathroom vanity and other fixtures.
While you could add other variants to the list based on the aesthetic style and materials uses, the main types of bathroom sinks are: Wall-mount, Corner-mount, Pedestal, Console, Undermount, Drop-in and Vessel sinks. As the names indicate, the main difference is how the sinks are installed or connected to the vanity or if they are free-standing or mounted directly to the wall.
Below, we'll discuss these different types of bathroom sinks and their functions in more detail as well as the advantages and disadvantages of each. Now, without further ado, let's find out about the different types of bathroom sinks.
Types Of Bathroom Sinks (Basins)
Wall-Mounted Sink
This bathroom sink, as the name implies, is mounted to the wall. This type of sink that's ideal for small bathrooms as it does not eat up a lot of space. Unlike pedestal and console sinks, wall-mounted sinks don't use up any floor space, and it can be installed at different heights. Furthermore, wall-mounted sinks often come with shrouds to hide unsightly plumbing pipes.
Pros:
Space-saver

Can be installed at different heights

Comes with a shroud to hide pipes
Cons:
Drop-in/Self-Rimming Sink
Drop-in sinks, also called Self-Rimming Sinks (or sometimes, Top-Mount Sinks,) are a type of sink that is the easiest to install as it's naturally crafted to go with an existing vanity. There's a rim that encircles the bowl which sits on the countertop to support the basin's weight. It's the most popular type of sink mostly because installation often only takes about an hour compared with other sink types on this list.
Pros:
Easy to install

Fits most existing counters

Popular among style-conscious homeowners
Cons:
Rarely installed as a standalone sink as most are made to fit existing counters
Undermount Sink
Undermount sinks, compared with drop-in sinks that sit either within or on top of a counter, are installed below solid countertops. It maximizes counter space plus it's much easier to clean compared with top-mounted sinks. Undermount sinks are also popular because the style gives your counter a smooth look.
Pros:
Space-saver

Easy-to-clean type of sink

Stylish and gives most counters a smooth look
Cons:
Rarely installed as a standalone sink as it is made to go below solid countertops
Vessel Sink
A vessel sink is a type of bathroom sink that's typically a deep, round basin that sits on top of the surface, which is the reason why they're also called Countertop Sinks.
These sinks are preferred by people who love modern style, as they often come in various artistic forms and materials such as stone, glass, marble, and even crystal.
Click here to see 10 of the most beautiful blue glass vessel sinks we've seen.
These sinks are generally higher, which means you won't need to fully bend over especially when you're washing your face. This can be quite helpful for people with back problems. Vessel sinks often require pop-up drains, though, which can be a bit problematic as the levers are fragile and prone to getting stuck.
Pros:
Stylish and comes in various forms

Comfortable as they are generally higher
Cons:
Requires pop-up drains

May consume a lot of space as it usually sits on top of the vanity.
Pedestal Sink
Pedestal sinks are stand-alone sinks that feature a wide basin and a particularly narrow base. It's a floor-mounted sink that takes up relatively little floor space; however, this can be quite a turn-off for homeowners that prioritizes storage space and can't give up even a little floor space.
Its plumbing hardware is covered up by its base although it's not really that much of a space-saver, it can be an excellent addition to large bathrooms as it comes in a variety of stylish designs.
Pros:
Stand-alone sink with a wide basin

Quite stylish, especially if installed in large bathrooms
Cons:
Doesn't leave much room for storage space
Console Sink
Consoles sinks, also called Semi-Pedestal Sinks, are a combination of the pedestal and wall-mounted sinks. The sink itself is mounted to the wall while the base is exposed. This is a bit of a solution for pedestal sinks problems as the compact, exposed base offer storage space.
The plumbing hardware is covered just like a pedestal sink. However, a console sink's hardware, because of being wall-mounted, does not reach the floor.
Pros:
Offers storage space

Less bulky option for small bathrooms
Cons:
Some might find it lacking in style
Corner Mounted Sink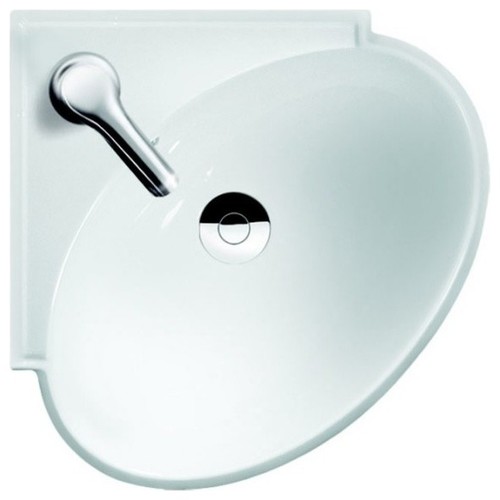 Corner sinks were made for a particular purpose: to be mounted on corners. This is useful when there's no room to spare in your bathroom walls. Compared with wall-mounted sinks that are designed to go into flat walls, corner sinks are explicitly designed to go along the sides of the wall with space conservation in mind.
Its relatively small size is ideal for small bathrooms that cannot spare flat wall spaces. However, some plumbing hardware is exposed which can be a turnoff for style-conscious homeowners.
Pros:
Space-saver

Has a very specific function
Cons:
Can't be installed on a flat wall

Some plumbing hardware is exposed
Corner Vessel Sink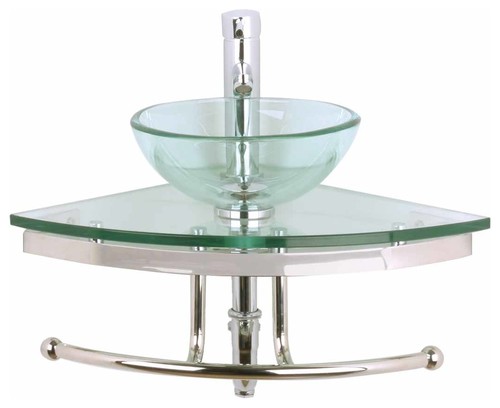 This is a combo of two types of sinks already mentioned, it's a two-sided shape with a 90-degree angle that is designed for corner mounting and it also sits on top of the vanity or bathroom countertop rather than being wall-mounted like the corner sink pictured above. The pros and cons of this blend of the two, it has the advantage of looking stylish and modern but it does take up a lot of space on the vanity and usually requires a higher mounted sink faucet.
Whatever your bathroom size is, there's a wide array of bathroom sinks to choose from, and all of them offer different kinds of convenience for each and every one. Some may seem more convenient than others, but it's really up to us to choose what we think is the best sink for our bathrooms. Do share your thoughts with us in the comments section!
Summary –
The functions of sinks have evolved over the centuries, starting from a mere stone basin for washing hands, they now serve a multitude of purposes. A sink also called a Washbasin, or just Basin is a large (although some sinks are rather small) vessel with taps to supply water. As you can see from the list above, there are several types of sinks on the market, and deciding which is best for you will mostly depend on the space you have in your bathroom, the type of vanity you have (if any) and how you prefer to install the sink.
Pin for later