It is very important to have excellent lighting in the bathroom. While natural sunlight is great, you still need good illumination during the evening and winter months, when the sun isn't around as much. Lighting lets you groom and dress up with ease. But more than vanity, lighting serves a bigger cause: safety. Being lit properly lets you avoid accidents, especially in the bathroom where water spills are common.
Below, we discuss the different kinds available to you.
Types of Bathroom Light Fixtures
Ceiling Lights
These have to be the most usual lighting fixture that you'll find. Both conventional and modern bathrooms use these lamps because they give off excellent illumination for the entire room while remaining small, simple, and compact. These are the most basic lighting fixture and are considered highly reliable. These are attached directly in the middle of the ceiling. You can choose from various designs and sizes.
Pendant Lights
Pendant lights are also called suspender lights or drop lights. These fixtures are mounted directly onto your ceiling. As the name suggests, they are suspended to hang using a cord, chain, or rod. Think of how a pendant hangs down from a necklace, but instead of a pendant, it's a light bulb.
These are very common in bathrooms but are also used in porches, kitchens, and foyers because of their beauty and versatility. You can get different designs of pendant lights, so it won't be hard to find one that fits into your decor. The most common one comes in the form of a single bulb enclosed within a dome- or globe-shaped cover. Another popular type has the bulb under an open reflector.
Chandeliers
Chandeliers are among the most popular light fixtures. As you know, these are also suspended from the ceiling, like pendant lights. Others call them girandoles or candelabra lamps. You can find chandeliers in all sorts of designs these days.
Beyond the traditional chandelier that's full of lavish ornaments, details, and multiple light fixtures, there are also modern chandeliers that are more sleek and minimalistic. Then, there are designs that feature the best of both classic and contemporary styles. It's easy to find one that fits right into your bathroom's decorative theme.
LED Strip Lighting
Speaking of modern lighting, LED strip lights are not just new – they are also highly versatile. Modern households use these lights a lot. These are comprised of rows of lamps laid on one strip light, which is wired internally to 3 or 4 circuits.
These come in various colors. White is the most common color because it is classy and fits most decors seamlessly, no matter what the season and occasion are. These lights are incandescent light bulbs that emit a warm and soft glow. They feature a low color temperature.
Wall Sconces
These fixtures are mounted on walls. They rely mainly on wall support and have no hanging cords or supporting base from the floor. These types of fixtures date all the way back to ancient times, but back then they had candles or torches instead of light bulbs. Candle sconces became popular as the 17th century came in, using brass and silver to hold the light fixtures.
Today, our wall sconces are available in varying styles and sizes. You'll find more contemporary designs that are sleek and minimalistic, as well as classic ones with timeless detailing. Besides bathrooms, you'll find these used in hallways, porches, dining rooms, kitchens, and corridors.
Make sure to check the size of your bathroom and mirror size when choosing a wall sconce. If you have a medium or small mirror, you can place wall sconces on either side of the mirror. But if you have a large mirror, you can place the sconce above it. Sconces can look particularly appealing in a powder room.
Recessed Lighting
Recessed lighting is common in modern bathrooms. Some people call them a pot light, can light, and downlight. These are installed on the ceiling through a hollow opening. Once in place, they create an illusion as if the light is shining down from holes in your ceiling.
These are very versatile and can be used virtually anywhere in your house. If you want ambient lighting, then these are a foolproof choice. They can easily highlight artwork, furniture, or even just plain walls in a very aesthetic manner.
Using these in bathrooms is a great choice, particularly in shower stalls because of their watertight lenses. This basically means they are waterproof. They're not just pretty – they can also fully illuminate your bathroom when placed on the border of the ceiling.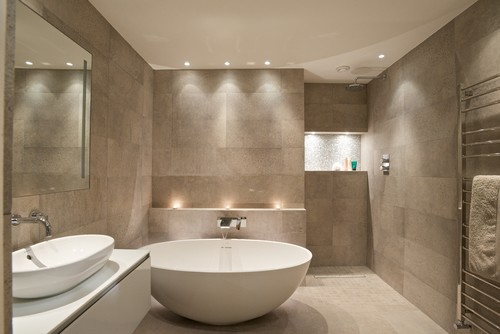 Special Bathroom Light Fixtures
Vanity Lighting
The vanity is one of the most important areas of the bathroom, and we all spend a lot of time here. Despite that, it's typical for it to be overlooked when it comes to illumination. This special area is home to our self-care activities, including grooming. It only makes sense to have it well-lit. This is why vanity lighting has its own section in our post.
When choosing vanity lighting, it's necessary to consider functionality beyond aesthetics. You can choose from vanity light bulbs or bath bars. Wall sconces are a good fit, too. Simply place the sconces on both sides of the mirror to distribute equal lighting and get rid of harsh shadows, which can be challenging when grooming.
Mirror Lights
These are special fixtures designed for bathroom or bedroom mirrors. Like vanity lights, you can install the lights around the mirror. Alternatively, you can go for mirrors with built-in lighting. These are great for illuminating the area while using the mirror but are also excellent at transforming bathrooms. You'll get an instant upgrade with these fixtures. They make your room look larger, more spacious, and airy.
Track Lights
Another form of special lighting, track lights are mounted to your ceiling or walls. They have individual lights that come in a continuous series. They are attached to a tracking device with electric conductors. You can arrange these in different styles and positions – down beams, crosswise, lengthwise, etc. You can also suspend them in a downward arrangement if you have vaulted ceilings using metal rods.