Most faucets in the bathroom are mounted either on the sink itself or behind it, on the counter. It is important to choose a faucet that's the right design and size to fit your sink properly. A lot of bathroom sinks come with pre-drilled holes on their rims to accommodate faucets.
There are three basic styles of faucets: single-handle, center-set, and spread-fit. These are standard faucets meant for pre-drilled holes. There are other famous types, too, such as bridge and wall-mount faucets, that require special plumbing installation.
Let's take a look at the different types of bathroom faucets.
Types of Lavatory Faucets
Single-Handle Faucets
Single-handle faucets have one handle and one spout. This handle controls both hot and cold water, as well as water flow. These are mounted on a countertop or sink deck with a pre-drilled hole. These are also easier on joints compared to two-handle faucets. These days, sensor-controlled models are becoming more common and let you to start and stop flow and adjust water temperature without even touching the faucet.
Center-Set Faucets
Center-set faucets have the handle and spout in one unit. Typically, these have double-handle controls as well. They are often meant to be mounted on a countertop or sink deck with three pre-drilled holes. They also have outside holes that are four inches from center to center. There are a few, though, in a single-post design that only needs one hole.
Spread-Fit Faucets
Spread-fit faucets have separate handles and spout. They have a connection hidden below the sink deck. They can be mounted in non-standard settings and fit holes placed 4 to 10 inches apart. You can position the spout on a rear corner, and then the handles off to another side. This type of faucet is great for tight installations.
Bridge Faucets
Bridge faucets mix modern tech with classic styles. They remind us of a time when plumbing was much simpler, but without common problems like drips and leaks. You can experiment a lot with bridge faucets with under-mount sinks. These usually mount to the countertop, so you won't need to stress about cleaning around the faucet and sink.
Wall-Mount Faucets
Wall-mount faucets are attached to the wall, instead of the counter or sink, as the name applies. If you choose this kind of faucet, make sure it works well with your sink. It's ideal to follow the manufacturer's instructions and specifications to get the correct placement and height. Otherwise, you risk splashing all the time. Often, the water stream should be positioned just right behind the sink drain.
Deck Mount Faucets
Deck mount faucets are mounted directly to your bathroom countertop. It is different from other types of faucets that are mounted to the sink or wall. These are used for bathtubs as well. They are often seen in kitchens, too.
Vessel Sink Faucets
Vessel sinks are basically basins on top of your counter or vanity. They can be made of virtually any material – glass, ceramic, stainless steel, copper, stone, and marble. The most common vessel sinks are made of ceramic or glass. Unlike other types of sink, this one isn't commonly seen in kitchens, but is common with bathrooms.
Vessel sink faucets are configured with holes that are drilled into the bathroom vanity or countertop. You can go with either single- or double-hole setups for these types of faucets. You can also opt to have it mounted on a wall or on a deck.
It is important to note that these faucets are exclusively made for vessel sinks. They clear the tall rim of the vessel sink. Typically, faucets need to be 4 inches to clear vessel sink basins.
Sprinkle Faucets
Sprinkle faucets use a special kind of spout. They are unlike the conventional cylindrical spout. They use a configuration where water comes out in a rectangular form. There are a series of borders that go to the spout's sides where the middle flat body lets the water ooze out gently into the basin. A cover might go around the whole surface of the spout, though. This configuration creates a highly unique appearance as a result.
Type of Faucet Based on Material
Brass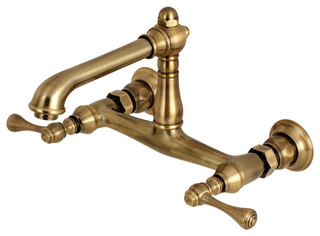 Faucets made of brass are very popular these days. This material mixes zinc and copper into an alloy. You get a nice shiny yellow tone. What's great about copper is how it works as an antimicrobial agent. Aluminum might also be added to brass to make it more durable and resistant to corrosion. Tin materials may be added to prevent the loss of zinc properties overexposure to water, also known as dezincification.
Stainless Steel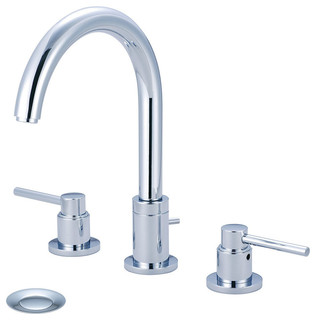 Stainless steel can elevate the elegance of your sink if used right. It's much tougher than brass. It features chromium and nickel, creating a shiny silver-like appearance. High-quality steel is hard and durable and does not dent. If you're using stainless steel faucets, make sure you clean and maintain them regularly to remove stains.
Zinc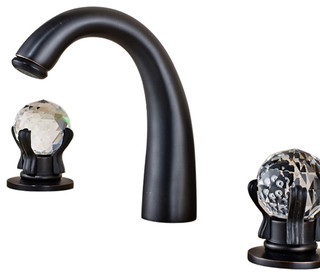 Zinc is a great choice if you can't use brass. It's a cheaper alternative. It has a dull gray color typically. However, manufacturers often plate it over with a chrome finish to increase its shine and attractiveness. Zinc is very lightweight and resistant to corrosion.
Plastic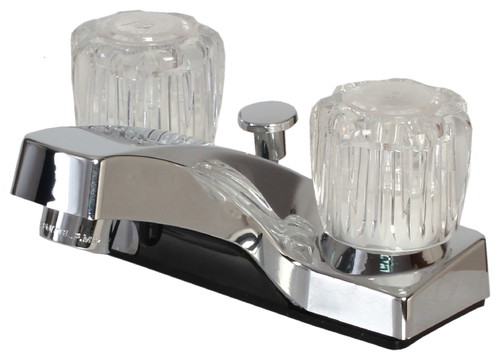 Plastic is the less-common choice for faucets. It is very cheap and quite easy to install. However, it's no surprise that it breaks more easily compared to other materials. Polyethylene is a better plastic because of its cross-linked fibers that make its body sturdier and not wear out easily. It also doesn't chip or seep into the water supply either.
It's possible to get faucets with fancy designs. Some even have fake crystal accents on their control knobs or handles. All things considered, plastic is the least best option on the list. It breaks easily and isn't as appealing as the other options.