The type of door you choose for your bathroom construction or renovation project might be more important than you think. Different design options from doors that swing inward versus out or those that slide along or even inside the wall will help define the style of your bathroom and can affect other decisions like where to put the toilet, sink or other bathroom fixtures.
Here's a quick and easy guide to help you out with your options!
Different Kinds of Bathroom Doors
Let's take a look at the types of doors that you can use for your bathroom.
Panel Doors
Let's begin with the most common type. Panel doors are found everywhere. You can identify it through the typical rectangular or square patterns on the door itself. You can get a single, large panel. You can get multiple, smaller panels. It's up to you. This type is very popular because it's versatile and matches any kind of bathroom decor naturally.
Sliding Panel Doors
Sliding panels won't swing. For this reason, they are best used for bathrooms that limited floor space such as a smaller guest powder room. They aren't as popular as simple panels since they need a bigger opening. If you want something a bit out of the ordinary, but not too extraordinary, these are a great option. If you hate doorknobs for some reason and prefer sliding panels, go for these doors.
Mirrored Sliding Barn Door
This is a variation of the last type of door but with the practical addition of a built-in mirror. This two-in-one solution provided a solid door closure for privacy and the practical use of a full length mirror built into one side of the door.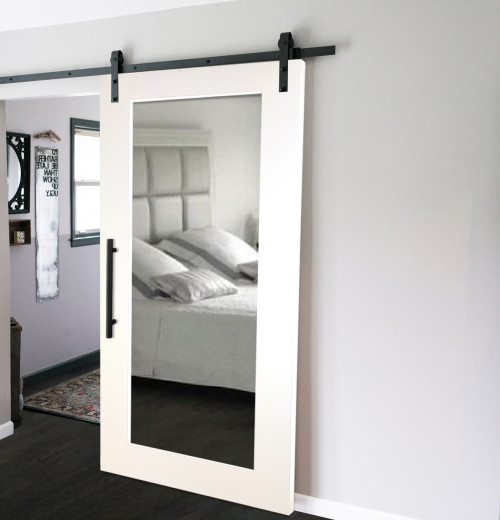 Glass Panel Doors
These doors have a piece of glass in the panel. It acts as a window in the door itself. You can have just one or several glass panels in one door, and choose to have them arranged in a pattern of your choice.
One large glass panel can be used where the door becomes a wooden frame, and the entire core is made of glass. You can have the glass frosted, too, if you value privacy. Alternatively, you can design the door to use a curtain that covers the glass part.
Frosted Glass Doors
Frosted glass is a common material used in bathrooms and showers. It can be an enclosure panel or an entire door. This is a nice compromise between maintaining your privacy while giving an open, airy, and spacious feel throughout the look. You can choose from a nice variety of frosted glass styles. There are also a number of ways that these doors can open and close.
Stained Glass Doors
Similar to glass panels, stained panels can be used as part of the entire door's design. This will definitely give your bathroom a unique appearance. You can use the stained glass panel for most of the door's length or have multiple and smaller panels that are arranged to form a particular pattern of your choice.
French Doors
These doors hang on hinges at the sides of the door. They swing to meet each other at the center. These can be used in different applications and styles. Admittedly, these aren't the most popular doors for bathrooms, but if you're up for adventure and risks, these can easily be the center of attention in your bathroom space. These will surely become a topic of conversation.
Barn Doors
Becoming very trendy these days, sliding barn doors elevate the feeling of warmth and coziness in any room. Bathrooms are no exception. You can pick from different colors and designs to match your room's theme. We definitely recommend barn doors for separate master bedrooms from their en-suite bathroom.
Pocket Doors
Pocket doors were more popular back in the day, but we're seeing a resurgence as of late. They are very distinguishable and ideal for bathroom use. They do not swing open. Instead, they slide into the wall once opened, giving you valuable floor space. If you have limited space in the bathroom, they are a great choice. These are especially suitable for powder rooms.
Glass Pocket Doors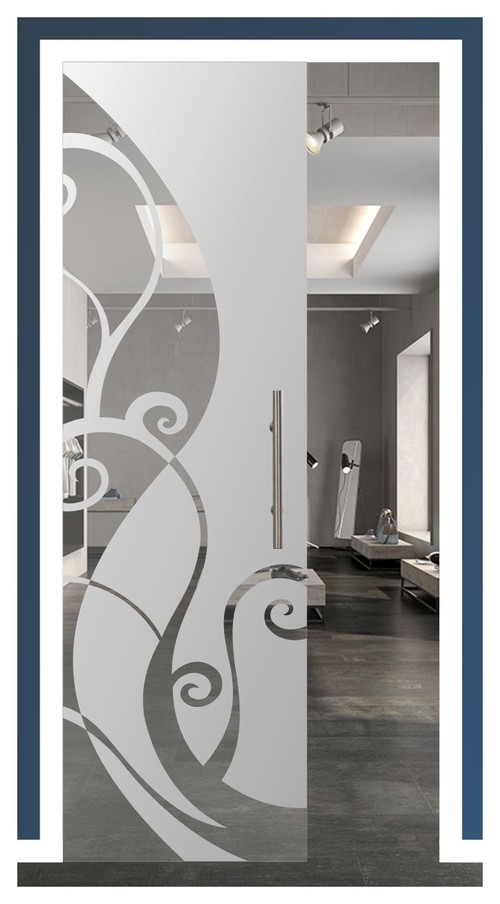 This is a variation of the pocket door but made of glass. The added value is that it let's natural light into the room. The glass should really be textured or frosted for privacy for use in the bathroom. The downside of this is the installation and care of glass vs wood is of course, more fragile and requires extra care – so probably not a great option for families with young kids.
Chalk Doors
If you're looking for a novel way to add character and charm to your room, this type of door will fit right in. You can paint the inside panel of the door using chalkboard paint. Personalize it however you want to. If you're having a party, you can let your guests leave a custom message whenever they use the bathroom!
Shoji Screens
Those who are going for an Asian-inspired theme for the home can find joy in Shoji screens. They are like sliding doors except more unique, particularly in structure, material, and overall design. If you're a fan of Japanese architecture and furniture, then these are right up your alley.
Transparent Glass Partitions
Instead of using bulky partitions made of doors, walls, or big panels of wood, glass partitions are a better choice. Use these to separate your bathroom from the master bedroom. You'll get privacy in both spaces without too much fuss.
Quick note – you'll need to make sure the moisture is kept contained and away from the rest of the master bedroom. Transparent glass partitions are perfect for accomplishing just that.
Built-in Mirror Panels on Doors
Mirrors and doors are essential in bathrooms. So why not put both into one thing?
This is a practical choice especially if you are dealing with little floor space. Plus, it's a nice touch for any room.
Doors / Mirror Frames
So we mounted a mirror on the door. But what if you can go one step further? Integrating a full-length mirror is more challenging – and more unique. These doors function as the frame for the mirror, which will swing to give access in and out of the room. That's pretty clever.
The bottom line is that there are many doors to choose from. Panel doors look simple and natural. If you want a fancier look, French or barn doors are a great way to go. However, you should consider not just the decorative aspects of the doors, but also check what material they are made of. The door should withstand high levels of moisture on a daily basis for it to last and serve its purpose for a long time.
Check out 15 Types of Bathroom Cabinets, Types Of Bathroom Flooring, and 10 Types Of Bathroom Floor Tiles!