It is not common knowledge to most, but once you start shopping for toilets it becomes petty clear that there are some basic categories of toilets and decisions you need to make: Round vs Elongated, Standard vs Comfort Height, Dual vs Single Flush …and One Piece Toilet vs Two Piece.
Once you make these basic decisions then you can get into more specifics and of course, compare the most well-known toilet brands.
One of the first things you'll notice, whether you're standing in the toilet aisle at Home Depot or browsing the best-rated toilets on Wayfair, is that the majority of toilets on the market are 2-piece models (where the tank and bowl are separate – the tank needs to be secured to the bowl during installation). Last time I was in Home Depot, there were a total of 4 one-piece models among the 20 or so toilets to choose from.
While there are some myths and misconceptions about the differences, the question is – how do you choose? Which is better? A one-piece or two-piece toilet?
Let's take a close look-
Understanding the main differences between the two as well as the advantages and disadvantages that each type offers will be vital in making the right informed decision. In this article, we will be discussing all the crucial elements that separate the one-piece and two-piece toilet. We will also be comparing the pros and cons of each so that you will be able to identify the best option for your home further. Let us begin.
Toilet Comparison: One-Piece and Two-Piece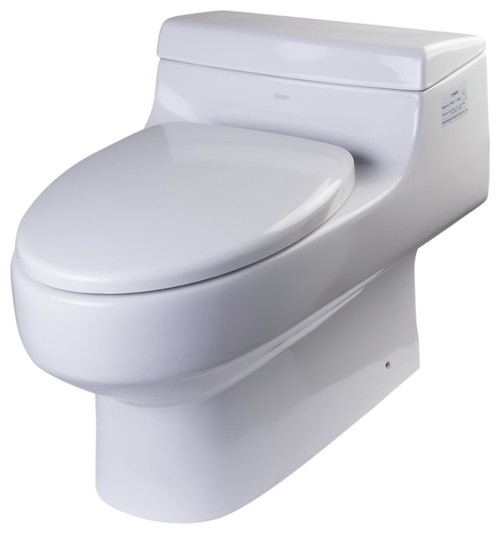 Appearance
In terms of appearance, both the one-piece and two-piece are available in a wide variety of designs. The one-piece toilet commonly has a sleeker appearance since there is no separation or gap between the tank and the bowl. The lines and contour of the toilet work well together as one cohesive design. A good example of this is TOTO Aquia IV Washlet with its very modern profile. Because of this, one-piece models are often chosen by interior designers for homes that have a contemporary aesthetic.
However, note that there are some one-piece toilet designs that capture the traditional appearance as well, a classic example of this is the Kohler Memoirs One-Piece toilet with its architectural look.
The one-piece toilet can sometimes give the appearance of being larger – even though the footprint is often very similar to a two-piece toilet because the spaces and gaps found on a two-piece are curved or filled in by extra porcelain to make one uniform piece.
Installation Process
The installation process for both toilet types is quite similar. Both can be equally complicated or simple to install depending on your knowledge, which is why it is best to hire a professional to do the job. The major difference between the two would be in regards to how difficult it would be to move into place.
The one-piece toilet is more difficult to move around as it comes pre-assembled, compared to the two-piece toilet, which is easier to move but will need to be put together. Having installed a taken a one-piece toilet out of a bathroom on the third floor of a walk-up apartment with no elevator – having to man-handle the 1-piece down the stairs was a lot more work than coming up the stairs with the new two-piece since I carried the bowl and tank separately and assembled it together in the bathroom.
On the flip side, you do need to connect the tank to the bowl and bolt it in – so that is one hassle you do save when installing a one-piece toilet.
Although maneuvering a bulky one-piece during the installation, it is a one-time hassle that only needs to be done once in the lifetime of the toilet so I wouldn't hesitate to buy a toilet just on that factor alone.
Other than that, installing both one-piece and two-piece toilets are similar.
Overall Durability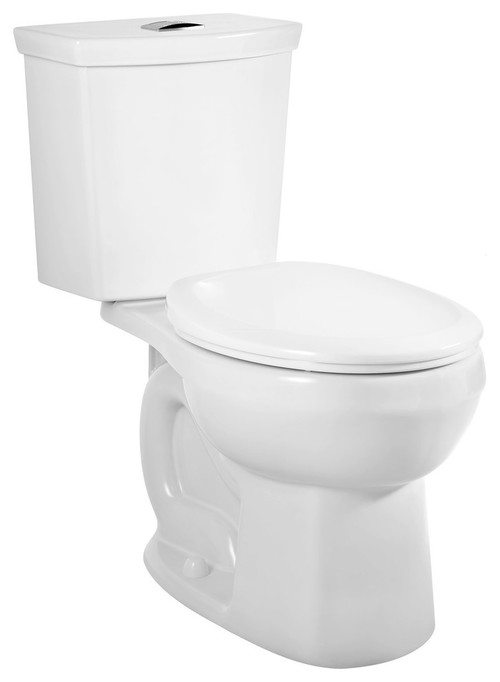 As the name implies, one-piece toilets are comprised of a single unit. The fewer parts a system or mechanism has, potentially the less maintenance it will need over the life of the toilet. In terms of reliability, the one-piece toilet is considered superior. Also, important to note is that the one-piece toilet will be connected to water pipes. As it is one whole toilet with no assembly, the risk of water leakage is reduced
The two-piece toilet is comprised of several components. This increases the risk of leaks, especially where the tank and bowl are connected, although if properly and firmly installed, it's relatively rare to get leaks at the point where the bowl and tank meet.
Overall, a good quality toilet of either type should last for years with proper care and maintenance. But considering that one-piece toilets do not incorporate any joining parts, it is less susceptible to water leakage problems. In terms of durability, the one-piece edges out the win.
Weight and Size
As stated earlier, one-piece might be sleeker, but two-piece toilets come in parts, which makes it easier to transport. Both come with similar options, the standard toilet height is around 15.7 inches. When it comes to the total weight, the one-piece toilet is significantly heavier. On average, a one-piece toilet weighs approximately 80 to 120 pounds whereas a two-piece toilet weighs in at 60 to 100 pounds.
Efficiency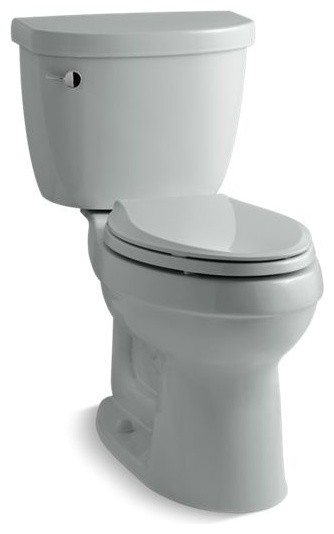 Both one-piece and two-piece toilets use the same types of flushing systems. Each is compatible with the various kinds of flushing technology from towers to flappers.
Both toilet types can also be found with WaterSense ratings, low-flow and/or dual flushing system, which is an excellent choice if you wish to save on your water bill.
Although there is still the myth that one-piece toilets do not flush as well as a two-piece. (I've heard some people claim that because of the tank is slightly higher up on many 2-piece models), that theory doesn't really hold toilet water. The strength of the flush comes down mostly to the flushing system used and circumference of the flush valve.
For example, the 4-inch piston action Accelerator™ flush valve that comes in the American Standard Champion 4 gets stellar ratings for the "Clearing Capacity" of its powerful flush and I know some contractors that install these on almost all their remodeling jobs because of the solid flush- as you can see here- it is a one-piece!
Fortunately, both are quite efficient in how it disposes of human waste. Each has access to all the flushing technology available in the market today. So, expect pretty similar results for both these toilet types.
Cleaning and Maintenance
Since the one-piece toilet does not have any gaps between the bowl and the tank, and many have a very sleek design that gently curves with very few sharp angles, the cleaning and maintaining it is extremely simple and easy to accomplish.
One-piece toilets require relatively less maintenance than its two-piece counterpart due to the lank of an independent tank. The lack of any tiny spaces or cracks also lends to the one-piece toilet's ability to prevent most cases bacteria build up and it's generally quicker to clean.
One-Piece Toilets: Advantages
Sleek and minimalist design is complementary to modern house aesthetics.

Less need for maintenance.

Easier to clean and is less likely to experience bacteria build up.

Little to no risk of water leakage problems.

Compact appearance is perfect for space-saving in bathrooms.

Considerably more durable than the two-piece toilet.
One-Piece Toilets: Disadvantages
If the toilet tank or toilet bowl is damaged, you will need to replace the entire unit.

Installing it can be challenging as it is quite heavy.

Many One-piece toilets are more expensive.
Two-Piece Toilets: Advantages
It comes in separate parts, so transporting it is relatively easy.

If the tank on two-piece toilet breaks or leaks, you could replace just the tank- although an uncommon issue

Generally more affordable.
Two-Piece Toilets: Disadvantages
Cleaning crevices in between joining parts are vulnerable to accumulating dirt and bacteria.

Two-piece toilets often look bulkier.

There is a risk of water leakage from tank.
How to Choose Between One-Piece and Two-Piece Toilets?
To help simplify your decision making, ask yourself the following questions:
Choose the One-Piece Toilet if:
You want something easy to clean and hygienic.

You want something modern looking
Choose the Two-Piece Toilet if:
You prefer a budget-friendly toilet system.

You want something easy to transport.
Final Thoughts
As you can see from the comparisons, both the one-piece and two-piece toilet offer similar functionality, it's more a question of aesthetics and the look you prefer. It will come down to crucial specific details on your personal preference.