Being luxurious is not just a state of mind – it can be experienced virtually wherever you want to. In the past, we've talked about luxury soap and hair care products that fall under the Luxury category. If you are the type of person who likes to invest in yourself, or just want to treat yourself with the nicer things in life from time to time, then this post is for you.
You've probably seen our past posts on luxury bathroom accessory sets. If so, then this is right up that alley. We'll talk about the most expensive and luxurious toilet brush holders ever. You read that right. If you think about it, we use our toilets several times during the day, so why not treat them luxuriously? Let's take a look!
The Most Expensive Toilet Brush Holders We've Found:
Superbe Designer Toilet Brush Holder
The first one on our list is not kidding around. The Superbe toilet brush holder from Versace, a designer brand known for selling some of the most luxurious fragrances and skincare products in the world. The current price point for this brush holder is over $1,000, and it can be bought here on a website called Amara, a homeware shopping site.
This isn't Versace's first foray into luxury homeware. It has also launched other bathroom accessories in the past, such as soap dishes and dispensers, as well as toothbrush holders.
The toilet brush holder itself has a square design that will easily fit snugly in any corner of the bathroom. The overall vibe of the holder can add a timeless elegance to any space without putting in too much effort. You'll enjoy the gold finish, which in itself creates an air of luxury already. In addition to that, it has a Medusa head motif at the front, which isn't just for decoration but is also meant to hide the brush itself from view.
If you have everything, then this toilet brush holder from Versace will be the final touch of extravagance that you need for your bathroom. It's not made to be hidden away, but to be noticed, and to shine on its own.
I Classici by Versace: Designer Toilet Brush Holder
Amara has a lot of other luxurious offerings besides the Versace toilet brush holder. One great example is this "I Classici" holder, also from Versace. It is designed beautifully so that it seems like a decoration that just sits nicely in your bathroom. Your guests will probably not even realize what its purpose really is.
It has a concealed cover which makes sure that you or your guests won't ever see the brush inside. The holder itself is made from die-cast bronze and is detailed using chrome and 24-carat gold. For the complete experience, you can match it with the rest of the pieces from the I Classici collection.
Porto Cervo Toilet Brush
Villari's Porto Cervo toilet brush and holder will not just keep your bathroom clean and in tiptop shape, it will also elevate the overall look of the space. It has an antique gold base that will instantly remind you about the natural but timeless look of the sea.
The seashell details, the swirls and curves will definitely transport anybody to the beach. The lid and handle are coated with polished gold plating, giving the toilet brush set an upscale look worthy of any high-end designer home.
You can get the Porto Cervo on Amara.
W-Luxury Concept Wall Brass Toilet Bowl Brush and Holder Set
This set is from W-Luxury and is available on Amazon. What makes this set truly luxurious is the fact that it is authentically made in Spain. It is designed to be mounted on the wall, which makes it space-saving if you are crammed for floor space. It will also easily blend into your decor especially if you have a classic bathroom theme going on.
This set includes the toilet brush, the brush holder, cleaner, and cover, so you already have everything that you can ever need.
Check prices for the W-Luxury Concept Wall Brass Toilet Bowl Brush and Holder Set on Amazon.
W-Luxury Luxe Round Wall Toilet Brush Bowl Holder
Another offering from W-Luxury is the Luxe toilet brush and holder. This is a really stylish accessory to have in your bathroom. Plus, it is made of hand-blown glass and high-quality brass – and that's not something you find in any homeware store. The authenticity of the craftsmanship of the material itself elevates the overall luxury of the room already. Add to that the fact that it was made by artisans in Spain, and that it is coated with a polished chrome and gold finish.
You can get the W-Luxury Luxe Round Wall Toilet Brush Bowl Holder on Amazon.
DWBA Berlin Standing Toilet Brush, Holder & Toilet Paper Set
The Berlin toilet brush set from DWBA is made of porcelain and brass, two materials that scream high-end living. It includes a standing toilet brush, its holder, and toilet paper. The entire set is meant to elevate the sophistication of your bathroom while saving valuable floor space at the same time. This item was designed and made in Germany, so you can count on excellent engineering quality. It comes in a polished chrome finish, giving it a more luxurious flair. The square shape makes it easy to make it fit in any corner of your bathroom, too.
You can find the DWBA Berlin Standing Toilet Brush Set on Amazon.
JASONN Wall Hanging Toilet Brush with Base Set
This wall-hanging set from JASONN is great if you're looking for a total package. The brush uses soft Thermo-Plastic-Rubber (TPR) bristles that have been proven to provide strong cleaning power during use while protecting the toilet's surface. The brush itself is designed to not wear out or lose its original shape, which means you can enjoy consistent cleaning for a long time.
Its rubber parts conform very well so that you can squish it down enough and get into all the nooks and crannies that require cleaning. It is particularly designed to be more than simply wiping, and to give you deep cleaning in hard to reach areas, such as under the rim.
The brush has a comfy and non-slip handle, which lets you control the brush without having to press and strain your arms.
The brush holder is designed with a unique round center of gravity, making sure it is stable all the time. The bottom is also movable, making it easy to empty any water and dirt that might accumulate at the base of the holder.
You can find this JASONN toilet brush set on Amazon.
Grohe Allure Brilliant Toilet Brush Set
Here's a toilet brush set from a name that's probably familiar to most of you. It's from Grohe, which we have talked about in the past, although we have focused on its toilets and faucets at the time. This toilet brush set is no exception from its dedication to producing high-quality products that make a positive change in their customers' daily lives.
The Allure Brilliant features cut-out details, intriguing angles, and crisp planes, which all clearly illustrate that it is made with the utmost precision. The kind of precision that can only come from decades of experience and a genuine passion for the craft. This toilet brush set is as complex as they come – yet it remains uncomplicated. Adding this to your bathroom will easily add an entirely new dimension to your overall decor. Its shape and structure are gem-like, exuding architectural appeal like no other.
Check out the Grohe Allure Brilliant Toilet Brush Set on Amazon.
FANSUSENKE Toilet Brush and Holder
This toilet brush and holder come in a simple and classic white and gray combo. The stainless steel brush is perfect for all contemporary bathrooms. It is also a nice choice for apartments, cabins, dorms, RVs, and other settings. Its portability should not fool you, though, because this piece is both durable and aesthetic as well.
It features a 16-inch extended reach handle that lets you do this chore without ever getting in contact with dirty water. The stainless steel round disc is also geared to prevent any water splashes and keep you neat while cleaning. It is in small details such as this that you can tell how much the company pays attention to the needs of their customers.
As mentioned earlier, it's very portable. This is because of its compact design. It is very slim, making it perfect for small bathrooms and tiny areas. You can tuck it away quite easily. The canister avoids stains on the bathroom floor by holding any drips.
The handle is made of 304 stainless steel, giving you assurance of durability and longevity. The holder is made high-quality polypropylene material, and the bristles are made of strong but gentle material. All pieces are completely non-toxic, safe, and odorless.
You can find this toilet brush set on Amazon.
Cubis-Plus Free Standing WC Brush Holder

This standing brush holder from the Cubis-Plus collection features a clean and minimal design. You can revel in the sharp and detailed lines against the square back plate. The overall look presents a bold statement that will definitely create a difference in your bathroom.
The holder is made of solid brass, ensuring durability for a long time, especially since it is fully forged. The freestanding design allows you to place it conveniently, wherever you choose to.
This brush holder is available on Houzz.
Classic Style Wall Mounted Glass Toilet Brush Holder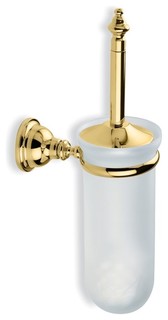 Nothing beats the classics. So if you've already got a classic style going on in your home or bathroom, then this will be the perfect luxury addition to your space. It is a wall-mounted toilet brush holder that was made in Italy, a country that's almost synonymous with luxury and elegance.
This won't just be a functional piece in your home. Your guests will definitely take notice of this piece and it'll quickly become a topic of conversation.
This toilet brush holder can be purchased on Houzz.
Windisch Free Standing Brass Round Toilet Brush Holder With Cover

This brass toilet brush holder isn't just made of high-quality material. They also coated it with chrome (or gold) finish to give it the ultimate luxury feel. It is freestanding and can be placed anywhere in the bathroom. It is part of the Windisch Accessories collection and is designed for modern bathroom decors.
The set is made entirely in Spain. You can find this Windisch toilet brush holder on Houzz.
Pelletier Round Wall Mounted Toilet Brush Set
The Pelletier Round Wall Mounted Toilet Brush Set was made to add timeless, long-lasting beauty to your bathroom. Without putting in a lot of work, it can elevate the look of your bathroom. The set is made of solid brass and hand-blown glass – two materials that do not come around lightly. So if you're looking for luxury, you know these are the real deal.
To make this wall-mounted set the next luxury accessory in your bathroom, head on over to Wayfair to check it out.
Complements Free Standing Toilet Brush and Holder
At first glance, you wouldn't probably think that this is what it is. It looks more like a modern art piece more than anything, which adds to the overall surprise.
This toilet brush and holder set from WS Bath Collections is part of the Complements collection, which offers one-of-a-kind and luxury accessories for any modern bathroom. Find inspiration in the details and make of this set. The stainless steel construction makes sure that you'll enjoy this set for a very long time.
You can shop for this toilet brush set on Wayfair.
Axor Starck Wall Mounted Toilet Brush and Holder
The final entry in our list is the Axor Starck toilet brush set. It revels in the strength of minimalism. After all, we live such hectic lives that we all crave moments of simplicity and peace. By reducing items to clear functionality and basic shapes, and by removing all distractions, we get a timeless bathroom accessory that will surely never go out of style.
This is the goal of Axor Starck: to spring up like a fountain and refresh our minds and bodies in a bathroom that is not distracting, but relaxing. One look at this item and you'll understand what this means.
The holder is made of solid brass, with a stainless steel cup and nylon bristles on the brush.
Check out this unique Axor Starck toilet brush and holder on Wayfair.