A clawfoot bathtub is a self-supporting tub with four feet under it. The feet are traditionally finished with a claw design, hence the name, but modern bathtubs with feet under them regardless of the design can also be considered a clawfoot bathtub. Its roots can be traced back to the mid-18th century, with the ball and claw design originating from Holland. It is believed to be inspired by the Chinese motif with the dragon holding a precious stone in its claws.
The design made its way to England, where it gained a foothold among the aristocrats during the latter part of the 19th century when bathing was considered to be fashionable. Clawfoot tubs were commonly made of cast iron which is lined with porcelain but some models were also made of copper and tin coated with paint and were a luxury item popular among the elite classes.
Clawfoot bathtubs are deeper than standard bathtubs and require more water. Clawfoot tubs have evolved over the years and are now available in a variety of cheaper materials including acrylic and fiberglass that have made them more affordable to the general public.
Antique clawfoot bathtubs can still fetch a huge price among collectors, but cheaper reproductions of this type of bathtub are preferred by home builders and remodelers.
Clawfoot Tubs – Advantages & Disadvantages
Clawfoot Tubs – PROS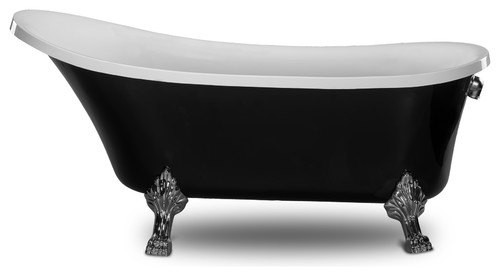 Pro – Elegant look
There's no question that having a clawfoot tub in your bathroom brings up the elegance and luxury level several notches. Clawfoot bathtubs are visually appealing because of their design and blend well in both traditional and modern bathrooms. Clawfoot tubs usually come in 4 different styles, namely the classic roll rim, slipper, double slipper, and double-ended.
Classic roll bathtubs are also known as roll-top tubs and have one rounded end and one flat end. Slipper clawfoot bathtubs have one end that is raised and sloped for a more comfortable position when lounging in the tub while double slipper tubs have both ends raised and inclined. Double-ended clawfoot bathtubs, on the other hand, feature rounded ends on both sides of the tub.
The clawed feet at the bottom of the bathtub can be made from a variety of materials but the most common are gold, bronze, and chrome. In recent decades, other materials such as pewter brushed metal, and satin nickel has also been used for the feet.
The feet are also designed in different ways and can come with the traditional Paw design with the feet ending with a paw-shaped peg, the Ball and Claw style with the foot ending with a round ball as the bottom piece, the Armada style which ends with a smooth and flat surface for increased stability, and the Cannonball design which is a simplified version of the Ball and Claw.
Pro – The tub is deep
Clawfoot bathtubs are bigger than standard bathtubs. The average size of clawfoot tubs is 54 inches when it comes to length and 32 inches when it comes to width. Because of the bigger length and width of clawfoot tubs, there is more room inside the tub to soak in, although that also means that it uses up more water. Water depth will range from 24 to 30 inches depending on how big the clawfoot tub is. These kinds of tubs can also accommodate two people depending on the size but there are smaller-sized models available that are suitable for single users.
Pro – Can be placed anywhere in the bathroom
Clawfoot tubs are freestanding which means they can be placed anywhere in the bathroom, whether you want to install it perpendicular or parallel to the wall. Depending on the size and design of your bathroom, you can even place it right in the middle of the room as a centerpiece. It can also be placed in areas with odd spaces to make it look more natural.
Just keep in mind that plumbing for clawfoot bathtubs is a bit different from modern tubs. If you are replacing a standard tub with a clawfoot model, you might need to alter or repair the existing plumbing to ensure both the water source pipe and drain pipe enter through the floor.
Clawfoot Tubs – CONS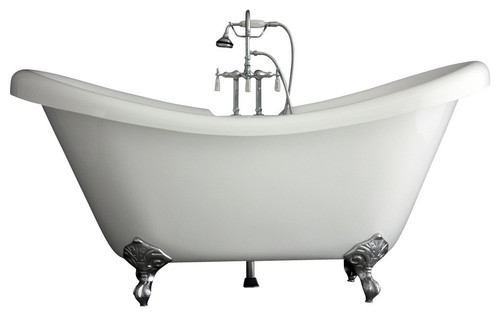 Con – Hard to clean
One of the drawbacks of getting a clawfoot bathtub is cleaning and maintenance. Since it stands on its own, you will need to clean it inside out to maintain its look and the quality of its material. This is easier said than done as access to the underside of the tub and around the feet can be difficult especially since the tub itself is heavy and cannot be moved around with ease. If you've installed it against the wall, it will be hard to clean that side too due to limited space.
Clawfoot tubs that have a porcelain finish are also prone to scratches, staining, and chipping, all of which can affect the overall look of the bathtub and cause the iron material inside to rust if the tub is made of cast iron or something similar.
Con – Installation can get expensive
While the option to place the bathtub anywhere you want is a huge advantage especially if you have a big bathroom space that needs filling up, it can also be a setback if the existing water drain and water source in the bathroom do not reach or is unsuitable for the clawfoot tub. This would mean moving the water supply and drainage lines to where you want to place the tub, resulting in added costs for renovations and repairs.
Another thing to consider is the need for extra floor support when installing the bathtub in second-floor bathrooms, especially since these kinds of bathtubs are heavier than standard ones in the market.
Con – It is heavy and takes up a lot of space
Clawfoot bathtubs are generally heavy but depend on the material used. Cast iron clawfoot tubs are very heavy and can weigh anywhere from 500 to 900 pounds when filled with water. Empty acrylic bathtubs, on the other hand, which are considered to be the lightest material used for bathtubs, weigh 120 pounds on their own. When choosing a clawfoot tub, it is important to consider the kind of material used and if your bathroom floor can hold the weight.
Space is also another issue as these are wider and longer than standard bathtubs which might not fit or look good in all kinds of bathrooms.
Featured Image by William LeMond