Many people are replacing their existing toilet seats with wooden ones to give their bathrooms a warmer feel. Depending on the style of your bathroom, wood accents can be a great way to add warmth and character. The wood also gives it a nice touch compared to typical white toilet accessories and vanities.
There is something about the natural look of a quality wooden toilet seat that gives a warmer feeling to your bathroom and a bit of luxury compare to more sterile-looking plain white toilet seats.
Take a look at these trendy wooden toilet seats to add some style to your otherwise plain-looking bathroom.
Here are a few of the best brands in the market. Although the Sanilo Elongated toilet seat is our top pick, we reviewed several other name brands that may interest you, based on shape and budget. Part of the choice will come down to between solid or molded wood.
Solid wooden toilet seats are generally more well constructed compared to those with just a thin veneer of bamboo but this will also affect the price.
Best Wooden Toilet Seats
Sanilo Elongated Toilet Seat (Bamboo)
Although the featured model here is the elongated toilet seat with a bamboo finish, Sanilo toilet seats offer a vast selection of styles and colors which gives you a better chance to match the décor of your bathroom.
These molded wooden seats are not cushioned, but that said, most customers found them sufficiently comfortable to sit on.
These elongated toilet seats are easy to install and are adjustable, so you don't have to worry too much about getting a suitable match for your toilet bowl. Since the installation material is provided along with the packaging, you will not need to go dashing off to the hardware shop for additional pieces.
Another useful feature of this elongated bamboo toilet seat is that it is "slow-close," so no noisy slamming which could also result in possible damage to the material.
Pros
A vast range of attractive styles and colors
Easy to install
Slow close action
Heavy-duty hinges
Adjustable to most toilet bowl sizes
Cons
Expensive compared to other similar products
Reports of damage while shipping
Comfort Seats Designer Solid Wood Toilet Seat
This solid wood seat made of durable Hardwood is finished with a1 mil of high gloss polyurethane giving it a premium look and finish. The metal hinges are PVD plated to help prevent corrosion which is one of the main problems with metal toilet hinges.
The dark wood finish gives it an elegant look that would work well in a modern bathroom. However, it only comes in this one option which may be too dark for some bathroom styles.
The seat measures 18.75 x 14.63 x 2.75 inches and is designed for standard elongated toilet bowls.
Pros
Solid wood
Dark, elegant finish
Corrosion-proof metal hinges.
Cons
One style and finish
Slightly more expensive than others on the list.
Mayfair Solid Bamboo Toilet Seat with Brushed-Nickel Hinges

This is our choice for a top round wooden bamboo toilet seat.
If you have a round toilet bowl, then you would probably be satisfied with the Mayfair Solid Bamboo Toilet Seat. This round toilet seat is made of solid bamboo and is both nice to look at as well as sturdy enough to give you a good run for your money.
Moderately priced, the manufacturers have put a lot of thought and effort into the design of this product, and it shows by its performance. An added advantage is prime shipping from Amazon to anywhere in the United States.
This round toilet seat is made from environmentally-friendly materials and processes, which gives an added value to the product. It is easy to install and comes with all the necessary hardware for installation. Installation is quite easy, and you can do it yourself without having to pay a king's ransom to a plumber for doing a ten-minute job.
Pros
Quality hinges with a nice finish
Easy to install
Reasonably-priced
Nice finish
Environmental-friendly
Cons
Some issues with the hardware
Complaints of slipping to one side
Toilet hole too small
Luxury Real Wood (Oak) Veneer Round Toilet Seat by Unity
This round toilet seat is a good option if you are looking for a cheaper model, but you still want something that doesn't fall to bits after a few months of use.
The Luxury Real Wood Veneer Toilet Seat has a pleasant look due to the attractive wood veneer finish.
It is, however, surprisingly robust, so you will not be disappointed with its performance. Made from medium-density fiberboard (MDF), this round toilet seat has a smooth, oak or teak veneer finish, giving it the appearance of natural wood.
Premium chrome-plated heavy-duty metal hinges support the toilet seat providing ample support to the usual wear and tear that a toilet seat receives.
This round toilet seat is easy to install suitable for almost all models of toilets. The surface is smooth and easy to clean.
Pros
Reasonably-priced
Comfortable to sit on
Pleasant natural wood veneer finish
Heavy-duty hinges
Easy to install
Easy to clean and maintain
Cons
Some customers had fitment problems
Reports of manufacturing defects
Bemis Dark Walnut Wood Elongated Toilet Seat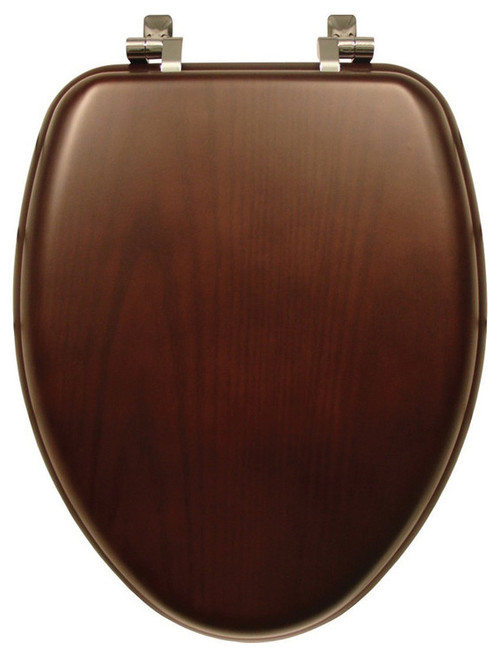 This walnut wood toilet seat by Bemis (click to see on Houzz.com) is part of their "Natural Reflections" series. The polished finished seat is made to fit all manufacturers' elongated bowls.
Measurements: W 14.63″ / D 2.22″ / H 20.69″. The dark Walnut wood finish gives a touch of contemporary elegance to any bathroom and the non-tarnish chrome hinges are a high-quality finishing touch.
The wood grain that shows through on this honey oak wood toilet seat from Dalton will add a touch of nature to any farmhouse-style bathroom.
Dalton also offers a complete bathroom set in this same style including a robe hook, towel bar, and towel ring if you are looking for matching accessories for a full bathroom make-over.
The Dalton Round Toilet Seat comes with a 1-year limited warranty that protects against defects in materials and workmanship.
Nature Bamboo Dark Wood Grain Toilet Seat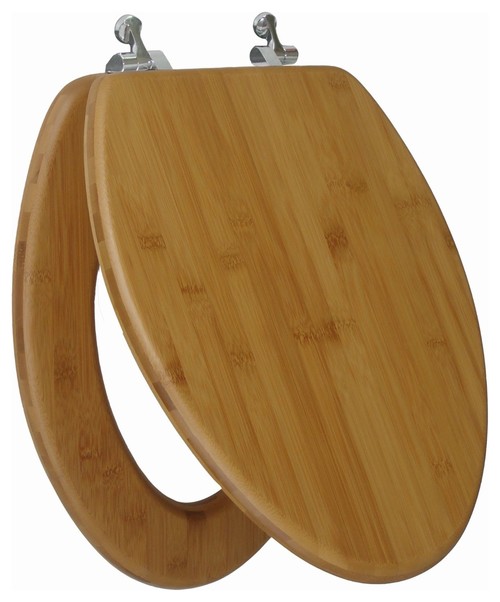 This next bamboo toilet seat by Spacio Innovations is designed to fit standard elongated shaped toilet bowls that measure 18.5 inches from the front of the bowl to the center of the mounting holes at the back of the bowl.
Similar to the other bamboo seats on our list, they are popular in part because of the sustainable "green" bamboo used, compared to old-growth trees. The hinges are a non-tarnish elegant brushed nickel.
One possible negative thing to keep in mind is that the bamboo may vary from one seat to the next so there may be a noticeable difference in tone between the photo and what you get delivered, although this can be a problem that affects many natural wood toilet seats.
Wenko Bamboo Toilet Seat Brushed Chrome Hinges
If you are only looking for elongated toilet seats in the bamboo finish, then the Wenko Bamboo Toilet Seat is an excellent choice because of the superb range of styles in bamboo that this brand has to offer.
This hand-sanded elongated toilet seat makes it not only environmental-friendly, but it has a pleasant, natural finish, which highlights the beautiful bamboo grain excellently.
Installation of this elongated bamboo toilet seat is easy and comfortable to sit on when installed. Another advantage of the bamboo seat is the temperature. In cold weather, it is pleasant to sit on as against sitting on a cold plastic toilet seat.
Pros
Adds class to your bathroom décor
Attractive chrome hinges
Good value for money
What to look for in a toilet seat:
Here are a few useful tips to guide you on what to look for while shopping for a suitable round or elongated toilet seat for your bathroom:
Fit your toilet bowl: Double check if your bowl is round or elongated. We've reviewed both styles below.
Budget: Wood toilet seats come in a wide range of prices depending on the quality of wood, we've reviewed options for every budget
Unique finishes: If you want the quality of wood without the natural finish, there are many overlays and finishes. Sanilo (first review below) has many to choose from that aren't offered by others.
Ease of installation: You should be able to install it on your own. Scroll to the end for a quick video showing install of the wooden toilet seat.
Overall look: Should complement the décor of your bathroom (does the wood tone match other wood in your bathroom or at least compliment each other?
Other resources:
Shop recommended wooden toilet seats on Wayfair.com
Shop wooden toilet seats on Houzz.com
Installing a wooden toilet seat:
The process for installing most standard toilet seats (round or elongated) is the same. The material used (wood, compressed wood, injection-molded plastic toilet seats) really shouldn't have much bearing on the install process. However, just for your info here is a quick video showing how to install a new wooden toilet seat from start to finish after you have removed your old toilet seat:
The Final Verdict:
As stated earlier, the clear winner here is the Sanilo Elongated Toilet Seat. It meets all the requirements you may be looking for in a toilet seat.
It is adjustable, easy to install, and has excellent customer reviews for durability and good looks as well. It also has some unique features as the slow close action that sets it apart from the other toilet seats.
By now, you should have a good idea of what to look for while choosing a suitable toilet seat for your bathroom. You have also seen the options that are available in your quest for the best wooden toilet seats.
We hope you have enjoyed reading this, and we look forward to your comments, feedback, and questions to which we will be glad to respond.
If you are looking for a new toilet seat you may also be interested in these elevated toilet seats with handles. If you are upgrading your home in general with some new bathroom accessories you may want to check out these top picks for accurate bathroom scales or these cool waterproof speakers to listen to music while you are in the shower.