Vigo Industries believes in enhancing its customers' daily life by offering creative and innovative products. For this company, it does not end with selling a product – customer service is a big part of the Vigo experience. That's why it's so active and transparent on social media.
To find out more about why it does what it does and how check out our recent Vigo Brand Review article. Or keep reading below to see our top picks for Vigo bathroom faucets. If you're thinking of renovating, these will be great additions to your home
Best Vigo Bathroom Faucets
Aldous Solid Brass Wall Mounted Bathroom Sink Faucet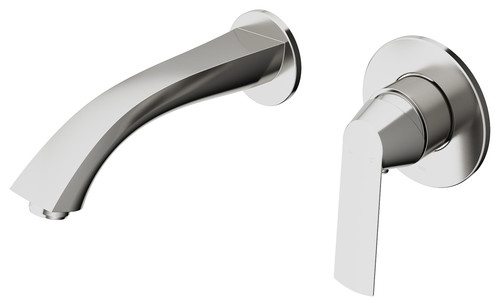 Vigo's Aldous faucet features one-of-a-kind circular plates and elegant curves. It gives off a look that is contemporary and creates more space in any modern bathroom. It is made of solid brass, a very durable material. It comes in a corrosion-resistant finish, of course. This means that you get a fixture that is both reliable and beautiful.
Install this over any sink to give your guests something to marvel at in the bathroom. Find it on Amazon or on Houzz!
Penela Bathroom Faucet, Single-Hole Deck-Mount Lavatory Faucet
The Penela faucet is simply designed to last. It's made purely of brass for complete durability for a long period of time. It comes in a seven-layer plated chrome finish! If that does not protect your faucet, we don't know what will. Plus, it doesn't hurt that it looks very elegant!
The ceramic sedal disc valves ensure high performance for as much as 500,000 uses. The low-flow aerator ensures you get sufficient pressure every time without going against water efficiency standards.
Look for the Penela faucet on Amazon.
Bova Bathroom Faucet, Single-Hole Deck-Mount Lavatory Faucet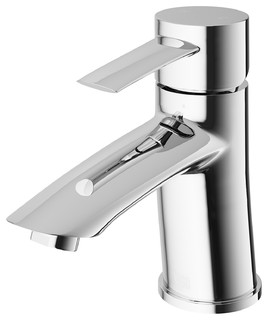 The Bova faucet is designed with one lever to give you full and easy control of water flow and temperature. It has a low 1.2 GPM flow rate at 60 psi, giving you sufficient pressure without wasting too much water. It is consistent and reliable, no matter what the water pressure is in your area.
Grab the Bova on Amazon or on Houzz.
Niko Single Handle Bathroom Faucet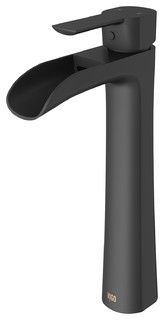 The Niko faucet can be considered spa-worthy with its beautiful design. It has a gently sloping spout where water streams in a soothing, smooth way. If you're looking to relax in your bathroom, this will do the trick. The water and heat control are also ADA compliant so that everybody can enjoy it safely.
Look for the Niko faucet on Amazon. It's on Houzz, too.
Davidson Single Hole Bathroom Faucet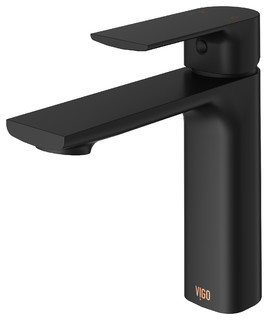 The Davidson faucet is very simple and easy to install. It can fit a lot of setups. With this matte black finish, you can definitely feel modern luxury at its best. Plus, it is coated with a 7-layer plated finish that is resistant against corrosion and tarnishes. This means you'll enjoy this beauty for a very long time.
Shop for the Davidson faucet on Amazon. It's on Houzz, too.
Dior Single Handle Bathroom Lavatory Vessel Faucet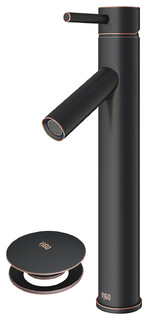 The Dior faucet is subtle but bold at the same time. It is a lead-free fixture that's safe for the entire family. Any modern bathroom will benefit from the aesthetic upgrade that this fixture brings. The single lever design is convenient and easy to use. Control water flow and temperature with one handle. The 1.2 GPM flow rate is more than enough to satisfy your needs and remain water efficient at the same time.
Look for the Dior faucet on Amazon. It's on Houzz, too.
Linus Contemporary Single Handle Brass Bathroom Faucet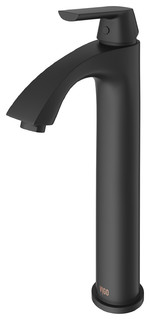 The Linus faucet is crafted with a seamless finish of 7-layer plating, giving it the best of both worlds: durability and aesthetic. It is guaranteed free from lead as well. The coating itself is not just resistant from corrosion and tarnish, but from fingerprints, too! Now that's a luxury that is easy to maintain. Simply wipe it and your cleaning tasks are done. The faucet body is made of solid brass for dependability throughout the years.
Get the Linus faucet on Amazon. It's on Houzz, too.
Alicia Bathroom Faucet, Single-Hole Deck-Mount Lavatory Faucet
The Alicia faucet is made purely of brass, ensuring a long time of reliability. You also get optimal water temperature and flow control with the single handle design. It is completely lead-free and has also passed ADA standards, leaving you with zero worries that everyone in the family can enjoy it. The 7-layer finish makes sure that no corrosion, tarnish, or rust will damage the faucet for a very long time. This buy is an investment that's worth your money.
Look for the Alicia faucet on Amazon.
Amada Solid Brass Single Handle Vessel Bathroom Faucet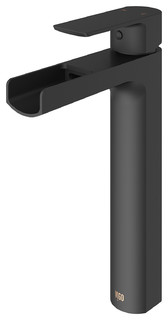 Finally, let's check out the Amada faucet. There a number of faucets under this product range. This one, in particular, is the single-handle model designed for vessel sinks. The slim shape of the faucet towers over any countertop vessel sink. You can go really bold or subtle in monochrome, but either way, this match will leave a lasting impression.
Of course, the faucet is ADA compliant and WaterSense certified, too. You don't need to worry about wasting too much water because it is completely water efficient. It is also safe for everyone, including individuals with limited ability. Parents will also rest assured that the waterways of this faucet are completely free from lead.
Search for the Amada faucet on Amazon. It's on Houzz, too.
Where to Buy Vigo
Find out which dealer or store is closest to you in the Where to Buy Vigo page. For international branch locations, click here. To see a list of authorized online retailers, check here.
You can shop for official Vigo products online on Amazon, Wayfair, and Houzz.