Symmons Industries has been in the front lines of creating innovative plumbing products and technologies since 1939. It has provided the market with both residential and commercial-grade collections that have graced bathrooms at home and in establishments.
Since its inception and to this day, it still aims to create high-quality products and efficient water management technologies that focus on giving what the customer needs without compromising the good of the planet.
To learn more about Symmons and its corporate values, check out our Symmons Brand Review. In the meantime, let's take a look at some of the top Symmons bathroom faucets available.
Best Symmons Bathroom Faucets
Symmons SLW-5112 Winslet Widespread 2-Handle Bathroom Faucet
The Winslet bathroom faucet evokes the old country charm like that of an antique cottage in an English estate. You get pure nostalgia and colonial decorative elements with these pieces. It features simple lines combined with bold and arched curves, creating an old-world feel that's just right for any modern bathroom.
It is fitted with an aerator that creates a high flow rate of 2.2 GPM, ensuring strong water pressure every time. It is also made of brass and zinc, giving you the durability that you deserve.
Find the Symmons Winslet on Amazon.
Symmons SLW-4412-1.5 Carrington Widespread 2-Handle Bathroom Faucet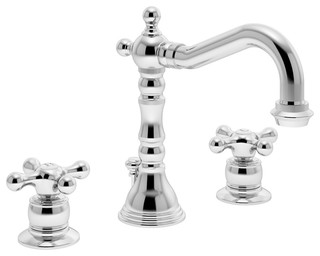 The Carrington faucet is made to create a look of historical sophistication and elegance. It is part of the Carrington Collection, which expresses its style via delicate details and intricate lines. You can take advantage of its Victorian character to upgrade any bathroom.
It comes complete with a metal pop-up drain assembly and lift rod. It is designed to comply with ADA standards, with brass handles that ensure ease of use. It is also free from lead.
Find the Symmons Carrington on Amazon. It is also available on Houzz.
Symmons SLS-3612-BBZ-1.5 Duro Single Hole Single-Handle Bathroom Faucet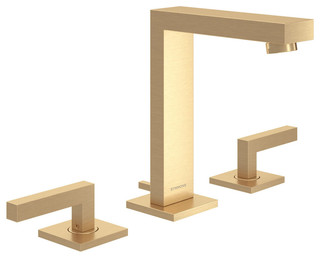 The Duro single handle faucet features clean and geometric shapes, inspired by modern architecture. The whole collection is dedicated to those who want to experience ultra-contemporary design in their everyday life. It comes in a precise rectangular form perfect for minimalist homes and modern bathrooms.
It is made of solid brass, making sure it lasts long. The brushed bronze finish makes it a beautiful centerpiece in any bathroom.
Find the Symmons Duro on Amazon. It is also available on Houzz.
Symmons Identity One-Handle Single Hole Bathroom Faucet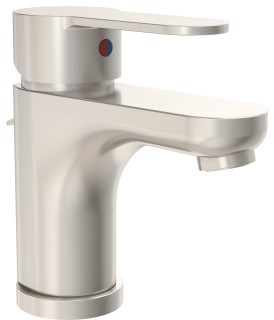 The Symmons Identity faucet is exactly like it sounds. It is made to put the user's individuality first. The entire collection balances detailed edges and sleek curves, creating a sophisticated but still simple style. The defined contours make sure it matches any modern decor you might have.
It is a single hole mount faucet that comes with a ceramic cartridge that ensures zero leaks during use.
Find the Symmons Identity on Amazon. It is also available on Houzz.
Symmons S-6612-STN-1.5 Unity Centerset Single-Handle Bathroom Faucet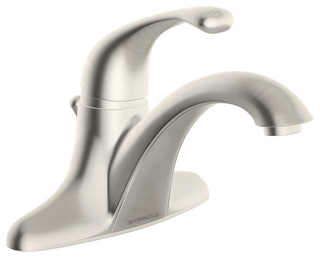 The Unity faucet features a transitional kind of design, which you can see in its overall form. The bathroom will receive a more cohesive look of functional elegance with the faucet's spouts and handles' curves.
It is made of durable brass and bronze to ensure durability and reliability. The metal lever handle is also fully ADA compliant. The faucet is guaranteed to be lead-free, too.
Find the Symmons Unity on Amazon. It is also available on Houzz.
Symmons SLC-5512-1.5 Elm Two-handle Centerset lavatory faucet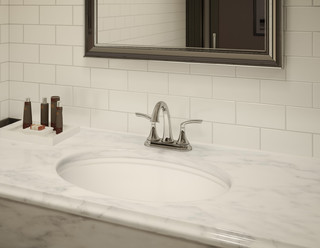 The Elm faucet features an effortless elegance with its simple lines and sleek form that creates a very organic design. It won't be hard to match this faucet with most bathroom decor.
The two-handle design gives you full and easy control of water flow. It is designed for four-inch centerset mounting. It also comes ready with ceramic cartridges, giving you a leak-free use every time.
Find the Symmons Elm on Amazon. It is also available on Houzz.
Symmons SLW-3512-BBZ-1.0 Dia Widespread 2-Handle Bathroom Faucet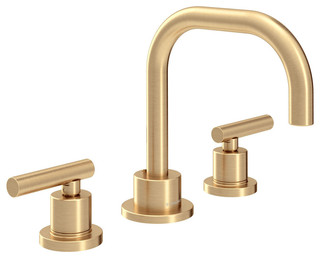 This Dia faucet is inspired by modern industrial buildings and structures. That's what you'll take away from its somewhat European design. It features clean and geometric lines that will fit right into your bathroom with no problem.
The faucet is made of premium brass, stainless steel, bronze, and plastic. A metal drain assembly is included, together with a lift rod.
Find the Symmons Dia on Amazon. It is also available on Houzz.
Symmons SLW-8212-STN-RP Brenna Widespread Faucet
The Brenna faucet combines together artistic curves and delicate details. Mixing conventional accents and simple, clean structures makes it a flawless fixture to add to either traditional or modern bathrooms.
The faucet comes with its own pop-up drain. The brass and bronze construction ensure durability in the long run. It is covered by the brand's limited lifetime warranty, too.
Find the Symmons Brenna on Amazon.
Symmons SLC-9612-1.5 Origins 4 in. Centerset 2-Handle Bathroom Faucet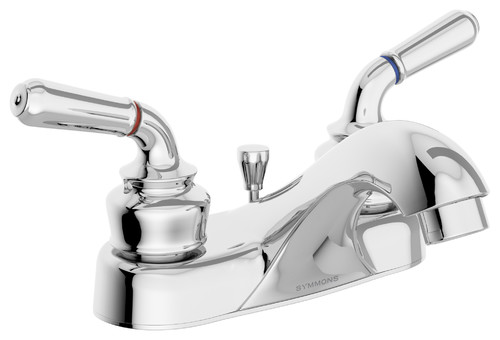 The Origins faucet finds inspiration from three other product lines from Symmons. The entire Origins collection puts together premium quality, new design, and water efficiency. It comes with the signature Temptrol solution to give your home a worthy upgrade.
The faucet and its parts are made from brass and other nonmetallic components.
Find the Symmons Origins on Amazon. It is also available on Houzz.
Where to Buy Symmons
Need more faucets from Symmons? Take note that they also carry a wide range of bath and kitchen products, such as showerheads, hand showers, towel racks, and many other accessories.
Locate the nearest store that sells Symmons products on the Where to Buy page.
There, you can also check for the official list of online retailers that sell their collections, including Amazon and Wayfair. They are also available online on Houzz.