Kohler, Co. has been paving the way for modern plumbing technology and manufacturing since 1873. Since then, they've been providing homeowners with high-quality products and services while still remaining true to environmental ethics.
Below, we've listed some of their bathroom faucets that feature amazing innovations and beautiful styles. To learn more about the company, its motivations, and how it operates, check out our Kohler Brand Review. We've also given our recommendations for the best Kohler toilets here.
In the meantime, let's take a look at the best Kohler bathroom faucets.
9 Best Kohler Bathroom Faucets
KOHLER Alteo Single Handle Single Hole or Centerset Bathroom Sink Faucet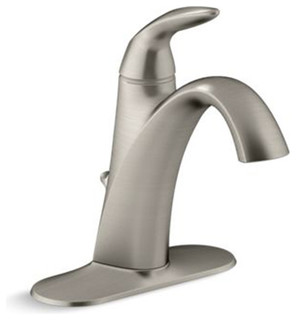 The Alteo Single Handle, Single-Hole faucet can be installed on 1-hole or 3-hole sinks and counters using the escutcheon plate, included in the package. Supply lines are also pre-installed to keep installation quick and easy. You'll also receive supply lines and a matching metal drain.
It is designed with ceramic disc valves that exceed current industry standards of performance and longevity. It is also resistant against tarnish and corrosion, thanks to the premium finish.
See this Alteo faucet on Houzz, or check prices on Amazon.
KOHLER K-10579-4P-BV Bancroft Monoblock Lavatory Faucet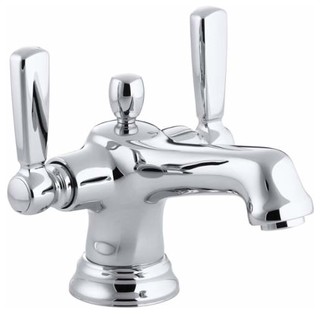 Bancroft faucets are inspired by the early 1900s design. They all scream Americana, complete with a timely nostalgia for solid brass construction and aesthetic. Despite the period setting, they look aesthetically pleasing for whatever bathroom theme you currently have.
This monoblock faucet has white ceramic lever handles and escutcheon that embody the traditional class that matches other products in the Bancroft Suite collection. It is made of stainless steel that is flexible, allowing for quick and simple installation.
This faucet is compatible with single-hole installations or four-inch centers with escutcheon. The disc valves are designed to exceed standards of longevity and durability. It also comes with a Kohler finish that resists tarnishing and corrosion.
Find this Bancroft Monoblock faucet on Houzz, or check prices on Amazon.
KOHLER K-10577-4-CP Bancroft Widespread Lavatory Faucet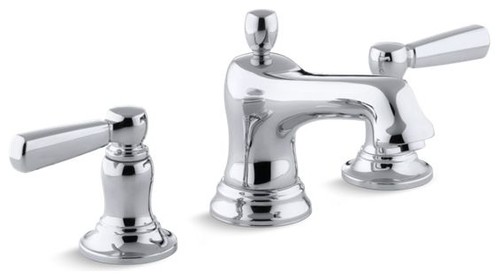 This widespread faucet is another offering from the Bancroft Suite. It features two handles and is designed to fit 8-inch or 16-inch centers. It also comes with Kohler ceramic valves which offer durability and performance that exceed current industry standards.
It is made of solid brass, adding to the reliability and resilience of the product. It also comes with a matching pop-up drain with a tailpiece and a lift rod. It is designed to resist corrosion and tarnish, thanks to its signature Kohler finish.
For an even simpler installation process, the handles have been pre-assembled on valves.
Get this Bancroft Widespread faucet on Houzz, or check prices on Amazon.
KOHLER 15271-4-CP Coralais(R) Threaded spout and Lever Handles Utility Sink Faucets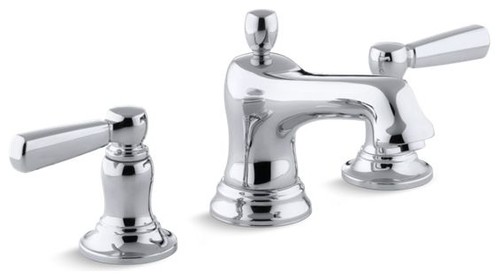 The Kohler Coralais faucets can transform your utility area, laundry room, workspace, or bathroom into a place of calm, productivity, and supreme design. You can use this in various rooms, but it is designed to particularly suit cleaning tasks. The sink faucet comes with a threaded swing spout that allows you to connect it to your hose or other water accessories.
This spout rotates to focus water on the area where you need it. The lever handles let you gain full and easy control over water pressure and temperature.
Shop for this Coralais faucet on Houzz, or check prices on Amazon.
KOHLER Fairfax K-12181-CP Single Handle 4 in. Centerset Bathroom Faucet
The Fairfax Single-Handle Centerset faucet is part of the larger Fairfax Faucet Collection. It brings a certain sense of elegance and nostalgia to your bathroom. Get a graceful design that will suit any bathroom style or configuration.
It is made of metal and comes with a self-contained ceramic disc valve which lets you control both water flow and temperature. In line with this, you'll get "temperature memory", which lets the faucet to turn on and off at any temperature setting. Of course, there is a setting for high-temperature limits to ensure safety.
Get the Fairfax K-12181-CP Single Handle faucet on Amazon.
KOHLER Forte K-10215-4-BN Single Handle Single hole or Centerset Bathroom Faucet
This Forte Single-Handle, Single-Hole faucet is designed with a stylish and sculpted silhouette. This rings true for all pieces in the Forte collection, as they complement both modern and classic decor. This one comes with an arching spout and one handle to control water easily. This same spout has an aerator that makes sure you get a splash-free and smooth water flow.
It is made of brass, with a self-contained ceramic disc valve for full temperature and volume control.
Find the Forte Single-Handle, Single-Hole faucet on Amazon.
KOHLER K-10217-4-BN Forte Tall, Single Control Lavatory Faucet
Another one from the Forte Collection is this tall, single control faucet. It features a distinctive profile, with its tall design and a smooth-operating lever handle, complementing its curvy high spout. Also made of brass, this comes with a touch-activated drain with no overflow.
Shop for the Forte Tall, Single Control faucet on Houzz, or check prices on Amazon.
KOHLER K-454-4S-CP Memoirs Widespread Lavatory Faucet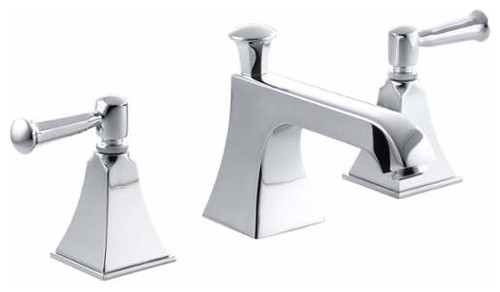 The Memoirs Widespread faucet comes in a stately design, offering a refined sense of elegance to your bathroom. It embodies a classic spout with ergonomic handles to keep operation easy and seamless. Installation is also guaranteed easy. Enjoy leak-free faucets courtesy of the UltraGlide Valves!
Complete the set with the included pop-up drain and tailpiece.
See the Memoirs Widespread faucet on Houzz, or check prices on Amazon.
KOHLER K-14404-4A-BV Purist Tall Single Control Lavatory Faucet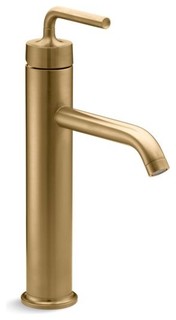 Our final entry is the Purist Tall Single Control faucet. It mixes simple architectural form with lines that boast of a sensual design. The details are quite careful, and you can capture minimalist decor perfectly with this faucet in your bathroom. With a high spout, it is ideal for sinks with no faucet holes, or for vessel sinks.
Experience easy operation from this faucet's ergonomic lever handles.
Grab it now on Houzz, or on Amazon!
Where to Buy Kohler's Products
You can get Kohler bathroom fixtures and accessories directly from the company. Visit their website here.
They also sell their bathroom products and other offers on Amazon.
Alternatively, you can check them out on Wayfair.com and Houzz.com.