You've probably seen – or used – a Grohe faucet before. It's hard not to since this company has been creating bathroom products for decades. Even though it started in Germany, its influence and reach have spanned several countries on different continents. It's one of the leading brands in bathroom fixtures. Not convinced? Give our Grohe Brand Review a quick glance!
If you haven't had the luxury of trying its products, don't worry – because they are widely available.
No matter what your bathroom style currently is, you can rest assured that they've got just the thing for you. Let's take a look at some of the best Grohe bathroom faucets.
9 Best Grohe Bathroom Faucets
Eurosmart New S-Size Single-Handle Single-Hole Bathroom Faucet
This piece features a streamlined contemporary design and smart looks. With forward-leaning dynamic lines, you'll think that it's just a pretty face in a pretty bathroom. Actually, Eurosmart faucets combine the best of looks, technology, and affordability.
This high-quality fixture also performs very well. It comes with Grohe SilkMove, which allows for precise handling, as well as Grohe StarLight, which ensures that you'll enjoy this product for a very long time. Eurosmart faucets are also ADA compliant.
Grohe 2057800A Lineare M-Size Bathroom Faucet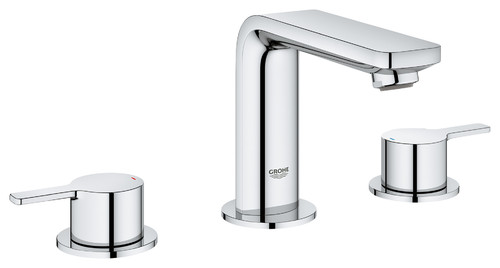 The Lineare faucet shows off a very minimalistic aesthetic, and yet it seems to give off a welcoming and warm vibe in the bathroom. With the minimalistic aesthetic in mind, the faucet was purposedly reduced to the lowest number of elements to get the thinnest appearance possible.
You'll get a line based on two simple, basic geometric structures: thin rectangular forms and cylindrical bodies of the spout and handle. It works flawlessly, giving you a harmonious composition of such simple shapes.
See the Lineare faucet on Houzz and Amazon.
Grohe 2379400A Lineare S-Size Bathtub Faucet with Fixed Spout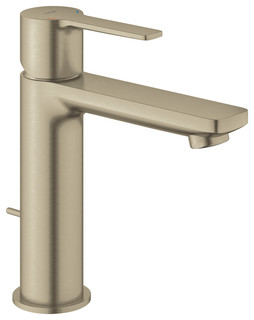 This faucet is the same as the previous Lineare faucet, except that it comes in a smaller size, and is fitted specifically for bathtub use. It also comes with a fixed spout.
The StarLight coating allows you to easily clean it just by wiping using a dry cloth. You'll get a super smooth finish, every time, since it is resistant to scratch!
Shop for the Lineare bathtub faucet on Houzz and Amazon.
Eurostyle Cosmopolitan S-Size Single-Handle Single-Hole Bathroom Faucet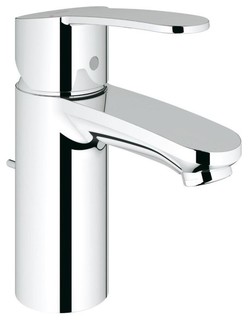 The Eurostyle Cosmopolitan faucet comes with SilkMove, giving you a smooth operation that'll last for a lifetime. It is coated with the StarLight finish to ensure tarnish and scratch resistance, which also allows for easy maintenance and cleanup.
If you are worried about water consumption, then you'll be glad to learn that it is fitted with EcoJoy technology, reducing consumption by up to 50%!
Compare prices for the Eurostyle Cosmopolitan faucet on Houzz and Amazon.
Grohe 20572001 Concetto Widespread Bathroom Faucet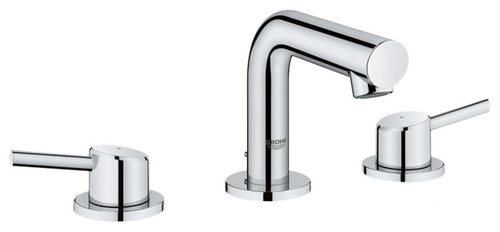 The Concetto Widespread faucet looks hip, cool, and modern at first glance. With a slick design and high-tech features, you know you'll make a valuable purchase if you pick this one. It carries some of Grohe's best innovations, such as SilkMove, StarLight, and EcoJoy.
This simply means that you get a highly durable, easy to maintain, and water-efficient faucet that'll fit any bathroom decor.
Check prices for the Concetto Widespread faucet on Houzz and Amazon.
Arden Lavatory Widespread 2-Handle Bathroom Faucet
The Arden Lavatory 2-handle faucet is designed to fit minimalistic spaces. You can see the tasteful design elements that can fit any bathroom style. If you are a homeowner who constantly changes room styles at home, this faucet will suit you well. Its ability to blend into any kind of style segment also makes it a favorite for professional realtors and builders.
Get your Arden Lavatory 2-handle faucet on Amazon.
Eurosmart Widespread 2-Handle Low Arc Bathroom Faucet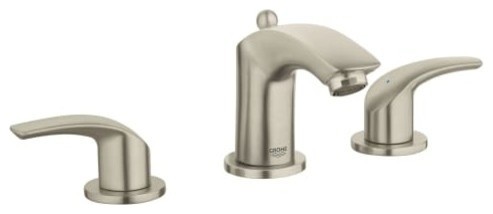 Another piece from the Eurosmart Collection, this new 8-inch widespread, two-handle, low-arc faucet comes with a modern curve and appeal. It is quite compact and will easily blend into any bathroom decor. If your bathroom is particularly small, or if you have limited counter space, then this faucet will be a great choice for you.
It's backed with some of Grohe's best technologies. You can control water volume and temperature easily and accurately, thanks to the SilkMove cartridge. You can also help conserve water AND minimize utility costs with its EcoJoy technology, which can reduce your water usage by up to 50%!
Browse for the Eurosmart Widespread 2-Handle Low Arc faucet on Houzz and Amazon.
Essence New Single-Handle Single-Hole Low Arc Bathroom Faucet
The Essense low-arc faucet is another Grohe offering that seamlessly blends high-tech functionality and minimalistic design. This single-handle faucet comes in a modern look, based on basic cylinders in different diameters. The lever handle is shaped like a joystick, parallel to the spout when you aren't using it. This streamlines the overall look even further.
This faucet has a water-efficient 1.5 GPM low flow rate.
Get the Essense low-arc faucet on Amazon.
Eurocube Centerset Single-Handle Single-Hole Bathroom Faucet
Finally, let's take a look at the Eurocube Centerset faucet. The square shape gives you an instant desire to take a second look, and that's on purpose. It serves as a modern interpretation of style and geometric functionality. It has such a crispy appeal and architecture, thanks to the square base and body. You'll be pleased that it's not just all about the looks – it's also geared with EcoJoy, giving it a highly efficient low flow rate of 1.5 GPM.
See prices for the Essense low-arc faucet on Amazon.
Where to Buy Grohe
Looking for more Grohe products? Shop directly from Grohe's online store. For US customers, go here. For Canadian customers, go here.
If you are from anywhere else in the world, find the Grohe shop for you here.
Their product lines are also available on Amazon, Wayfair.com, and Houzz.