A bathtub is a container that can hold water for the purpose of bathing. Originally invented in 1883 by John Michael Kohler, the very first bathtub model was made of a cast-iron horse trough with four decorative feet and covered with an enamel finish. Similar to what we know now as the clawfoot model, this kind of bathtub became a symbol for the elite in Europe.
Over the years, bathtubs have evolved to adapt to changing times, in both design and material used in its construction. Western-style bathtubs are usually shallow and long and designed for lying down while Eastern-style models are short and deep, typically called "furo" in Japan and are meant for sitting on. Bathtubs are also made from different materials to match different bathroom styles. Check out these different bathtub materials that are commonly available in the market which can help you decide on the model to purchase.
Most Common Bathtub Materials
Porcelain-Enameled Steel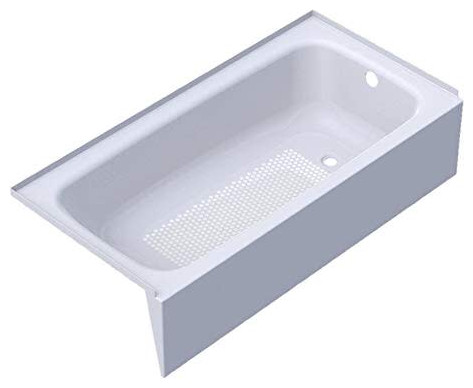 Bathtubs made from porcelain-enameled steel are among the most common models available in the market. This kind of bathtub is made out of a steel sheeting that is then covered with an enamel coating made of porcelain.
Porcelain-enameled steel bathtubs are considered inexpensive and are lighter than enameled cast iron bathtubs but heavier than acrylic models.
Pros: Porcelain-enameled steel bathtubs are both practical and affordable. The surface of these kinds of tubs is easy to clean and durable. The enamel coating makes the surface resistant to corrosion and scratches. This kind of bathtub is commonly sold in a standard bathtub size of 60 x 30 inches which makes it suitable for remodeled bathrooms.
Cons: One of the biggest drawbacks to a porcelain-enameled steel bathtub is the enamel coating can become chipped or cracked when an object is dropped on the surface. When this occurs, the steel sheeting underneath becomes susceptible to rust. Design-wise, there are also limited options in terms of color and shape. Porcelain-enameled steel bathtubs tend to lose heat quickly too.
Acrylic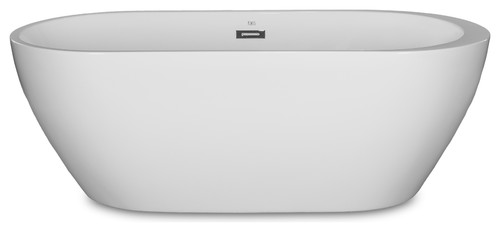 Acrylic is another popular material used for the construction of bathtubs. Acrylic tubs are popular due to their versatility and durability. These tubs are made by reinforcing vacuum-formed acrylic sheets with fiberglass. Acrylic comes in soft and malleable sheets, allowing room for more flexibility in size, shape, and design. Acrylic tubs are lightweight, which makes it easy to move around and install.
Pros: Acrylic bathtubs have a smooth and non-porous surface and have excellent heat-retaining properties. This property of acrylic makes it suitable for those who like soaking in warm baths. Acrylic bathtubs are considered affordable although they are more expensive than tubs made of fiberglass.
Cons: Given the soft nature of acrylic, the surface of acrylic bathtubs can scratch easily. However, it is also easy to repair any scratches by polishing it or filling it out with acrylic. Bathtubs made of acrylic tend to be less sturdy than models made of other materials which makes it necessary to reinforce stress points during installation. Some acrylic bathtubs are combined with fiberglass to make it stronger but it can also make the bathtub more expensive.
See a full comparison of Cast-Iron vs. Acrylic Bathtubs here.
Ceramic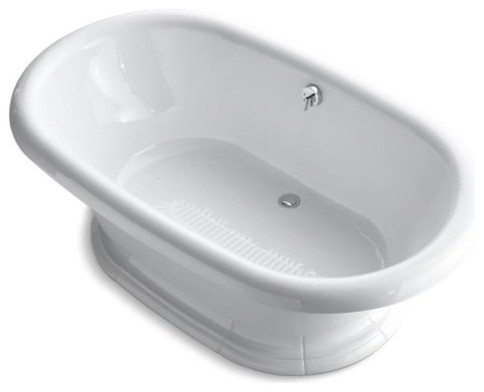 Ceramic is an inorganic non-metallic solid shaped and hardened by subjecting it to high temperature. Ceramics are generally hard but brittle and resistant to corrosion. Ceramic bathtubs can either be made of smooth ceramic inside and out or just covered with ceramic tiles on the outer surface. Ceramic bathtubs are easy to customize in terms of size and shape.
Pros: Ceramic bathtubs are often used as an accent piece in old-fashioned bathrooms. Apart from its attractive design, bathtubs made of ceramic are easy to decorate and to modify to suit one's taste and needs. These are specifically suitable if one prefers a corner bathtub to save space or for large spaces wherein a larger bathtub is required.
Cons: Ceramic bathtubs are less readily available in the market as this kind of material tends to be made-to-order. These are also more expensive compared to steel bathtubs and are harder to install due to the fragility of the ceramic that can chip or cracks if not handled properly. Cleaning can also be a challenge because of the grout in between the tiles.
Fiberglass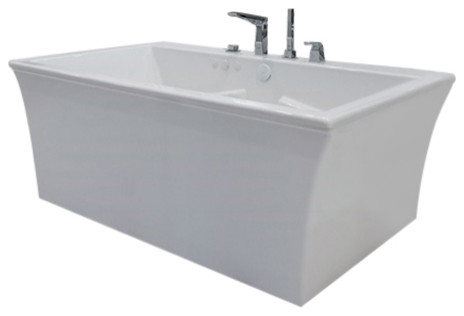 Bathtubs made of fiberglass are made of layers of fiberglass, polyester resin, and a surface coat. Fiberglass is a kind of plastic reinforced with glass fiber and is stronger than many metals when it comes to weight capacity. Fiberglass bathtubs are among the most affordable kinds of bathtubs in the market and are cheaper than acrylic bathtubs but are also less durable.
Pros: Fiberglass bathtubs are lightweight which makes them easy to install. It also doesn't require any additional floor support, especially when installing in second-floor bathrooms. The soft surface of fiberglass tubs also enables easier repairs by just sanding it, using a filler, and applying an epoxy-based coating.
Cons: A fiberglass tub is made by forming several layers of the material into the preferred shape. Once the form is finished, a resin coat is applied to give the bathtub a shiny appearance. The process causes some inconsistencies in the thickness and color of the tub and is also prone to fading. The lightweight nature of fiberglass also makes it thinner than other materials, leading to a bathtub lifespan of only 10 to 15 years.
Enameled Cast Iron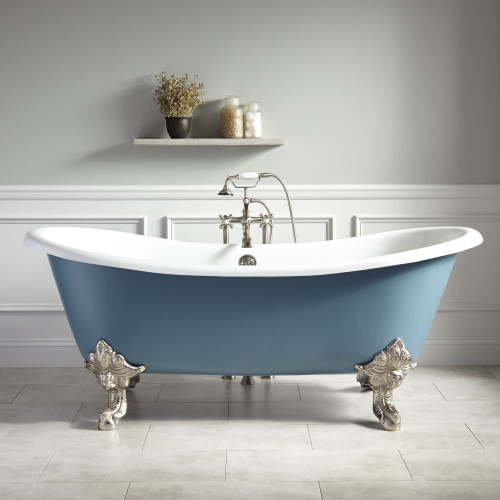 Enameled cast iron is a classic material used for bathtubs. Bathtubs made from enameled cast iron are very durable but very heavy too. While this option is suitable for those willing to spend more on their bathtub, it makes a great investment as it lasts years. The bathtub is made of molded iron which is coated with a thick layer of porcelain enamel to make it resistant to chipping, denting, and scratching.
Pros: Because enameled cast iron bathtubs are made of pure iron and thick, these are considered to be the most durable of all bathtub materials. The thick material also makes it great in maintaining water temperature, particularly for hot baths. Cast iron bathtubs are believed to last decades, can be resurfaced to make it look like new again, and has a classic look.
Cons: Enameled cast iron bathtubs are very heavy and require more manpower to install. It is also necessary to provide extra floor support when installing the bathtub, especially in bathrooms on higher floors because of the weight. Similar to steel bathtubs, enameled cast iron tubs will rust if the coating chips or cracks. This kind of bathtub is also more expensive compared to other bathtub materials.
Conclusion
Soaking in a bathtub can help with stress relief, cleansing, and even reduce muscle aches. Choosing the right kind of bathtub for your home can help you get the full benefits when it comes to your physical and mental health. There are different kinds of bathtub materials in the market, each with their own pros and cons. Depending on whether you are after something affordable, easy to clean, or easy to install, these options are good to consider for your bathroom.
Featured Image by ErikaWittlieb